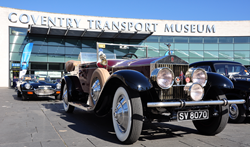 'We look forward to further developing our relationship with Coventry Transport Musuem.' - David Bond, Director, Footman James
West Midlands (PRWEB UK) 6 March 2015
Footman James is now offering specialist insurance rates to friends of Coventry Transport Museum.
The scheme includes specialist rates for classic cars, motorcycles, kit cars - as well as giving owners the opportunity to tailor their policies through FJ+; options include agreed value, breakdown, spare parts, track day and travelling to work cover. A dedicated Footman James professional will also support and liaise with the museum offering networking opportunities.
Coventry Transport Museum opened in 1980 and tells the story of Coventry's unique transport heritage. The Museum is home to one of the world's largest collections of British road transport, the vast majority of which was designed and built in Coventry or has a strong Coventry connection. The collection is designated as being of national importance and consists of 300 cycles, 120 motorcycles and 250 cars and commercial vehicles.
David Bond, Footman James' Director, said : "We look forward to further developing our relationship with Coventry Transport Museum. By providing advice, services and specialist insurance in a competitive market, we can guarantee a passion and enthusiasm to match that shared by museum-goers and staff!"
Gary Hall, Chief Executive at Culture Coventry, the Trust that runs Coventry Transport Museum, said : "We are really pleased to be entering into this partnership with Footman James in 2015, which is set to be a very special year for the Museum. This summer, we will relaunch the attraction following an impressive £9million redevelopment project, which is guaranteed to bring classic transport enthusiasts from around the world to enjoy our unique collection. Part of the Museum's ethos has always been to form long lasting and mutually beneficial partnerships with organisations and individuals; this arrangement fits the bill perfectly!"