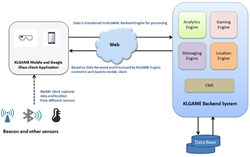 KLGAME™ combines Location based Services, Gamification, rich Push Notification, IoT & Big Data Analytics into one robust, scalable & highly available framework.
New Delhi, India (PRWEB) March 09, 2015
Kellton Tech's team of experts will showcase KLGAME™ to a panel of CIOs, Angel Investors, and Decision Makers in the government at the final selection process. Other contenders in the category 'Technology Innovation (Non Product)' include Hitachi's PaaS 4SaaS, Merxius Software's MARMO, NTT Data's Gamified Engaging Experience Conference (GeeC), Imaginate's Realtime Wearable Interactive Solution for Manufacturing Automation and Repair. Infosys is in the competition with three technology innovations: Artificial Intelligence Robots – Infosys Automation Platform, Retail in Store - Location based Services Platform, Wearable Tech Google Glass for Business.
The Hyderabad Software Enterprise Association (HYSEA) award celebrates India's growing prowess in the field of IT by recognizing outstanding innovations in technology and bringing together start-ups, product companies, and investors on a common platform. Himanshu Sharma, Product Manager – KLGAME™, represented the innovative IoT application among the jury panel during various rounds in the selection process.
About KLGAME™
KLGAME™ - Kellton Tech Location based Gamification, Analytics and rich Messaging Engine; leverages Location based Services, Gamification, Big Data, and Cloud to power customer engagement in retail, education, hospitality, banking, and real estate. Premium restaurants and luxury hotels and retail outlets have successfully implemented KLGAME™ to provide unique and enriched user experience to their customers. Gartner adding gamification to their hype cycle says: "More than 50 percent of organizations that manage information processes will gamify those processes". KLGAME™ provides a strong and scalable backend system, along with requisite hardware and robust mobile clients to interact with beacons, providing businesses with extensive inputs on user behavior.
About HYSEA
The Annual HYSEA Industry Awards are presented to honor IT/ITES and Software Product development companies for their major achievements in exports, productivity, product development, and CSR best practices.
About Kellton Tech
Kellton Tech Solutions Limited is a public listed (BSE: KELLTONTEC), CMMi Level 3 and ISO 9001:2008 certified global IT services organization. It is headquartered in New Jersey, USA and has development centers in the United States and India. For two innovative decades, Kellton Tech has put into practice the vision upon which it was founded viz. "to offer infinite possibilities with technology". The company provides end-to-end IT solutions, strategic technology consulting, and offshore product development services to customers including small and medium companies, enterprise companies, and Fortune 500 businesses. The organization has serviced customers representing a wide range of verticals including retail, travel, e-commerce, education, hospitality, advertising, market research, manufacturing, consumer goods, logistics, supply chain management, and non-profits. Kellton Tech is also a global leader in providing Enterprise Mobility Solutions and Mobile Application Development.