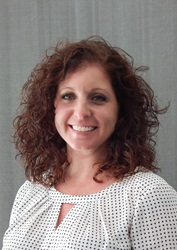 Insurance can be complicated. I'm here to help my clients understand what they need. - Christen Maroulis
JACKSONVILLE, FLA. (PRWEB) March 05, 2015
Brightway Insurance Agency Owner Robert Ware opened the company's first insurance agency in Delaware on February 23. The office, located at 3301 Lancaster Pike, Suite 5B in Wilmington, is managed by Designated Agency Principal Christen Maroulis.
Brightway Insurance is a national property/casualty insurance retailer selling through a network of franchised independent agencies throughout the country. The company now has 115 stores in nine states.
Maroulis was born and raised in Baltimore and earned her bachelor's degree from Towson University. Prior to running the Wilmington Brightway office, she served as the General Manager of Merry Maids in Towson and Dover. In that role, she managed a multi-office, two-million dollar operation, and more than 50 employees.
Under Maroulis, Dover Merry Maids was given the Dallen Peterson Award of Excellence, a recognition awarded to the 20 top-performing Merry Maids franchises in the United States and Canada.
"My past experience in this community and with a franchise is an asset to me in my newest role," Maroulis said. "Insurance can be complicated. I'm here to help my clients understand what they need, and, with me, they can enjoy a wide variety of choices in insurance companies that can provide their home, auto, flood and umbrella insurance."
Maroulis has volunteered for the American Heart Association and the Delaware Chapter of the American Foundation for Suicide Prevention. She also supports other fundraising efforts, including the Home Instead Senior Care Be a Santa to a Senior program, Meals on Wheels, Habitat for Humanity, Walk to End Alzheimer's, Out of Darkness, Suicide Awareness Walk and Gals that Give.
"Giving back is important," Maroulis said. "I'll continue my volunteer efforts I'm excited to be with Brightway because we give back to our clients every day by making their insurance shopping as easy as possible."
Brightway independent agents have access to more than twice as many insurance companies as other independent agents and they focus strictly on selling and growing their books of business, while service, carrier relationships and technology are handled centrally. As a result, Brightway agents consistently sell more new personal lines business than do traditional independent agents.
Brightway began franchising operations in 2008, is privately owned and has 115 franchise locations in nine states. In 2014, the company was named a Top 500 Franchise by Entrepreneur magazine for the second year in a row, the 9th Best Franchise with Less Than $150,000 in Entry Costs by Forbes, and the company was also named to Florida's Fast 100 by Florida Business Journals for the second year in a row.
For more information, go to brightway.com