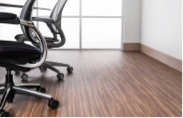 SOLON, Ohio (PRWEB) March 05, 2015
Tarkett is excited to announce new product updates to its ever-popular heterogeneous sheet product, Acczent. The previous collection of 19 SKU's, including 1 steel and 18 wood visuals, will now expand to 25 woods, 6 concrete, 4 Zen and 4 Tisse.
To create design continuity between sheet and tile, which allows designers to install sheet and tile on the same job, Tarkett strategically selected wood and concrete visuals from the existing I. D. Freedom LVT line as well as Zen and Tisse visuals from the Space Modular Tile collection and included them in the new Acczent Heterogeneous Sheet Collection. With these additions to the Acczent Collection, Tarkett now offers wood, concrete and linen textural visuals in both sheet and tile formats.
Another important update to the line includes a change in gloss level. The new Acczent Collection will feature a matte finish which coordinates with our other homogeneous lines and eliminates the possibility of installing flooring with two different gloss finishes next to one another.
Construction
An exceptionally hard-wearing reinforced polyurethane surface treatment and 32mil wear layer make this product one of the most resistant and durable commercial sheet vinyl products on the market. Whether you are looking for high chemical resistance or easy-to-clean properties, Acczent will help you to generate savings during the product's lifetime and minimize the use of water, detergents and energy for the floor's maintenance. Versus other products with polyurethane-reinforced (PUR) construction, Acczent can offer annual savings of 17% in labor costs, uses 23% less water, 83% less detergent and 66% less energy to maintain. The high wear-resistance and low-maintenance properties of Acczent, together with its versatile design and color offering, make this flooring ideal for use in heavy-traffic, commercial areas such as hospitals, schools, offices and retail applications.
The new Acczent sheet products can be either heat welded with an easy to clean solid color weld rod or cold welded.
Sustainability
Acczent is the only heterogeneous vinyl sheet product with all of these better indoor air quality attributes:

Phthalate-free technology, except pre-consumer recycled content
TVOCs under 10 /µg cubic meter (under limit of quantification)
FloorScore™ certified meeting CA01350
100 % recyclable
Contains 23% pre-consumer recycled content
Low-emitting water-based adhesives
Color Coordination
Acczent is part of the Johnsonite flooring system, which includes rubber, linoleum, homogeneous and heterogeneous vinyl, stairwell solutions, finishing borders and accessories. Our integrated color palette runs across our full range of flooring solutions to help create efficiencies that pay off for the end-user in real lifetime return. Every element is designed to work together functionally, aesthetically and logistically. Matching weld rods are available in order to complete the system offering.
Acczent is available in sheet format only. The dimensions are:
General:
Gauge: 0.080" (2mm)
Weight: 5.7 lbs per sq.yd (3.1 kg per sqm)
Roll:
Width: 6'6" (2m)
Length: 75'9" (23m)
For more information on Tarkett's comprehensive range of Johnsonite commercial flooring solutions, finishing borders and accessories, visit http://www.tarkettna.com.
###
About Tarkett
Tarkett is a global leader in innovative and sustainable solutions for flooring and sports surfaces. With a wide range of products including vinyl, linoleum, carpet, rubber, wood & laminate, synthetic turf and athletics track, the Group serves customers in more than 100 countries worldwide. With 12,000 employees and 34 production sites, Tarkett sells 1.3 million square meters of flooring every day, for hospitals, schools, housing, hotels, offices, stores and sports fields. Committed to sustainable development, the Group has implemented an eco-innovation strategy and promotes circular economy. Tarkett net sales of 2.5 billion euros in 2013 are balanced between Europe, North America and new economies. Tarkett is listed on Euronext Paris (compartment A, ticker TKTT, ISIN: FR0004188670) and is included in the following indices: SBF 120, CAC Mid 60, CAC Mid & Small, CAC All-Tradable . http://www.tarkett.com