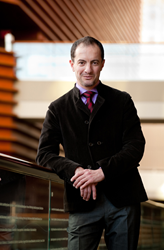 Chautauqua, N.Y. (PRWEB) March 05, 2015
Chautauqua Symphony Orchestra is pleased to announce its 2015 season, opening Thursday, July 2, with the debut of new music director Maestro Rossen Milanov, and concluding Tuesday, Aug. 25. All performances take place in the Chautauqua Institution Amphitheater.
This summer, CSO seeks to balance tradition and innovation through several exciting new initiatives that audiences will encounter throughout the season. Highlights include a Tuesday evening series of musical exploration, a Sunday afternoon matinee, an exclusive preview of a new concerto by legendary jazz musician Wynton Marsalis, two powerhouse performances of "Carmina Burana" and the world premiere of a contemporary piece that ties in with one of Chautauqua Institution's signature weekly lecture themes.
"We are thrilled to welcome some of today's most influential musical figures, but most importantly to establish a close connection between tradition and modernity, historical context and the sheer energy of our performances," Milanov said. "I hope that all attendees will find our 2015 season illuminating, inspiring and intriguing."
As ninth music director of the CSO, Milanov will lead 11 of the orchestra's 21 performances, including three in new series titled "CSO: Into the Music." These 60- to 90-minute, intermission-free concerts on Tuesday evenings will be conversational in nature as Milanov shares insights about the evening's music and composers. The series consists of "A Visit the Museum" on July 7, "The Genius of Mozart" on July 28 and "Exploring Golijov" on Aug. 18.
For the first time in more than 20 years, the CSO will perform a matinee concert on Sunday, Aug. 9 — as with all Sunday programs at Chautauqua, admittance to the grounds and the Amphitheater is free. This "audience choice" performance, conducted by Milanov, will be programmed by soliciting votes through social media leading up to the date.
During Week Eight of Chautauqua's season, musician, composer and educator Wynton Marsalis and violinist Nicola Benedetti will be in residence at Chautauqua to work on Marsalis' first violin concerto. The pair will present a preview performance with the CSO and guest conductor Cristian Macelaru on Aug. 22. The London Symphony Orchestra will perform the world premiere of the concerto with Benedetti on Nov. 6, 2015.
"Carmina Burana" by Carl Orff will serve as Chautauqua's 2015 inter-arts production. Directed by retiring Vice President and Director of Programming Marty W. Merkley, this powerful work will be presented twice (Saturday, July 25, and Saturday, Aug. 15) through a grand-scale collaboration of the Chautauqua Symphony Orchestra, Charlotte Ballet, Buffalo Philharmonic Chorus, Rochester Oratorio Society and Chautauqua School of Dance. "Carmina" follows "The Romeo & Juliet Project" (2013) and "Go West!" (2014) in an ongoing initiative to feature many or all of Chautauqua's resident arts programs together in major productions.
The CSO also continues its commitment to new music and interdisciplinary work in 2015 by debuting a Chautauqua Institution-commissioned piece for orchestra, solo violin, solo spoken word and boys' narrative chorus. "Meditations on Raising Boys," premiering Thursday, July 9, is a collaboration between composer/violinist Daniel Bernard Roumain and spoken word artist Marc Bamuthi Joseph. Featured as both creators and soloists for the work, these two artists will be in residence for the week of July 4–11, themed "Boys Will Be Boys, Then Men."
For more details about the Chautauqua Symphony Orchestra's 2015 season, please see the attached full repertoire listing.
The Chautauqua Symphony Orchestra was founded in 1929 and today continues its legacy as the center of musical life at Chautauqua Institution. Performing 22 concerts in the Amphitheater including two concerts accompanying Chautauqua Dance, and two productions in collaboration with Chautauqua Opera, the CSO is a tenured union orchestra that draws its membership from around the nation and around the world. It has grown from its original complement of 52 musicians to the current roster of 74 active members.
The pre-eminent expression of lifelong learning in the United States, Chautauqua Institution comes alive each summer with a unique mix of fine and performing arts, lectures, interfaith worship and programs, and recreational activities. Over the course of nine weeks, more than 100,000 people visit Chautauqua and participate in programs, classes and community events for all ages — all within the beautiful setting of a historic lakeside village. "Smithsonian" magazine named Chautauqua as the No. 1 "Best Small Town to Visit in 2014" in the cover story of its April 2014 issue.