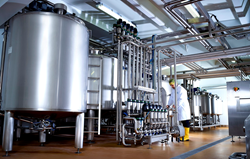 The proof is in the yogurt
(PRWEB UK) 6 March 2015
Tomlinsons Dairies choose Gemak to supply continuous yogurt plant resulting in best yogurt awards at The Royal Welsh Agricultural Show's Winter Fair 4 weeks after installation.
Tomlinsons "largest liquid dairy in Wales" appoint Gemak to install a state of the art Cream and Yogurt plant which incorporates a new application, first time in the UK.
Tomlinsons chose Gemak to design, manufacture and install a fully automated continuous cream and yogurt plant at their Wrexham Plant.
The new plant was commissioned at the end of November and is capable of a fully automated continuous blending and processing of 3000 l/h yogurt and desserts without the need for preparing premixes prior to pasteurisation. The plans for the new plant come on the back of a successful growth in Tomlinsons fruit yogurt and cream market.
The plant incorporates a new processing application that was developed by Gemak in the last 2 years and already applied successfully at a number of yogurt and ice-cream plants around the world.
The new application removes a timely process of pre-mixing and preparing of the blends for the base prior to pasteurisation with a new inline automated liquid and powder recipe blend process in line with the continuous pasteurisation. The benefits of the new system are 60-80% reduction in energy use, 70% increase in processing speed, 60% improvement in process controls, monitoring and recording.
The new system allows Tomlinsons to choose the recipes, amounts to be processed and the destination vessels from the PLC and the plant automatically and one after the other accept, blend, homogenise, pasteurise, hold, cool the milk, cream, powders and direct to the fermentation tanks at a rate of 3000 l/h continuously without having to do a wash down in between recipe change overs.
Tomlinsons Dairy MD, Philip Tomlinson said, "We are very excited about our new plant and opportunities it will bring to our business. We have visited Gemak at their new production plant and were very impressed with their quality, manufacturing, level of engineering and their experience in dairy processing. They were also the only company that offered a truly bespoke turnkey solution from in house with their own staff who is responsible for design, manufacturing, software, automation, installation and commissioning which gives us a peace of mind as they have full control of all of the crucial stages and accountability. They also offered the quickest lead time and competitive prices in the market."
Kursat Uysal from Gemak UK said, "We are very excited about the first UK installation of our new continuous yogurt line at Tomlinsons Dairies. This system has proven to be very successful in other markets in the last 2 years offering tremendous savings in energy, increased speed and better process controls. Gemak specialise in process solutions for the dairy industry and has manufactured and installed over 300 turnkey dairy plants around the world since 1986."
Welsh layered yogurt supplier Daffodil Foods Luscious Layered Timperley Rhubarb yogurt won First place in The Royal Welsh Agricultural Show's Winter Fair this week. Their Mango & Passion Fruit yogurt came second in the same Dairy Produce category.
Daffodil branded yogurts are produced at a brand new, state of the art continuous yogurt processing plant supplied and installed by Gemak back in November this year at the processing muscle of Tomlinson's Dairies, Wrexham.
"We are delighted to win not only first, but also second for our Luscious Layered Yogurts which are made from locally sourced Welsh milk and Welsh cream and are produced and packed in Wales too. We have focussed on producing an indulgent yogurt, which looks and tastes like a dessert, but offers a healthier alternative compared to most puddings. It is fantastic for us to gain recognition for their flavour and quality by winning both of these awards." Said Lynne King, Director of Daffodil Foods.
Daffodil Foods range of six layered yogurts is sold in Tesco and Asda throughout Wales and in many independent shops and delis too.
Gemak specialise in design and manufacture of dairy processing equipment and engineered turnkey solutions for the production of pasteurised and UHT milk, cream, butter, cheese, yogurt, ice cream, desserts and powders. Gemak has a unique offering from their new, multi-million pound manufacturing plant with in-house design, engineering, manufacturing, automation, software, installation and service under one roof, making them the "one-stop solution partner of choice" within dairy industry.