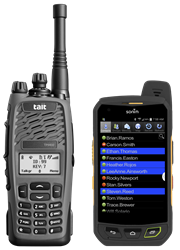 UnifyVoice will provide the first responder an elegant solution that intelligently communicates over the best available network to ensure mission critical communications.
San Luis Obispo, CA (PRWEB) March 10, 2015
SLA and Tait Communications (Tait) today announced the selection of SLA's Enterprise Secure Chat (ESChat) technology as the cellular Push-to-Talk (PTT) engine for Tait UnifyVoice, an innovative solution that switches seamlessly between cellular and LMR radio networks and provides both Smartphone and LMR radio users with a PTT over cellular capability. ESChat is a carrier agnostic encrypted push to talk (PTT) over cellular solution that also provides location tracking and group text and image messaging for real-time communications.
Tait has been able to leverage the ESChat Software Development Kit (SDK) to add Push-to-Talk over cellular into various components of its UnifyVoice platform. The ESChat SDK has components that allow customers to add reliable and secure PTT over cellular to Android and iOS smartphones and tablets, as well as consoles and other network components.
Tait will be demonstrating its integrated UnifyVoice platform at the 2015 IWCE expo in Las Vegas, Nevada on March 18th and 19th.
"UnifyVoice provides organizations with more effective and efficient near-instantaneous communications, by integrating the benefits of both PTT over cellular and LMR to all users, delivering seamless mobile communications" said Russell Watson, Solutions Marketing Manager, Tait Communications.
"UnifyVoice enables organizations to extend Tait LMR networks into broadband communications, improving communication resilience by leveraging cellular and Wifi networks to fill black spots and extend capacity. It is very easy to use – field workers simply push the PTT on the Tait Smartmic and UnifyVoice does the rest. Office staff can remain situationally aware of what is happening in the field through the PTT application on their Smartphone, enabling them to communicate with both field and office workers."
"Tait has approached the challenge of integrating LTE and LMR technologies from a unique and creative perspective." said Josh Lober, President of SLA Corporation. "UnifyVoice will provide the first responder an elegant solution that intelligently communicates over the best available network to ensure mission critical communications."
First commercially deployed in 2008 at Edwards Air Force Base in California, the ESChat product suite supports Android and iOS smartphone devices and personal computers. ESChat also supports a Radio over Internet Protocol (RoIP) interface that allows it to be interfaced to first responder dispatch and Land Mobile Radio (LMR) networks providing a seamless and secure communication environment. The ESChat Software Development Kit (SDK) allows developers to integrate reliable Cellular PTT communications into new and existing products. ESChat service is currently used in the education, construction, utilities, and hospitality sectors as well as by the US Military and first responders across North America, including federal, state & local law enforcement.
Tait will offer the first release of UnifyVoice commercially in the second half of 2015, targeting administrative users with smart devices. It will be able to be purchased as a monthly cloud service or as a customer premised based solution. Tait will demonstrate the fully integrated version of UnifyVoice targeting exclusive trial opportunities in 2016. Demonstrations are available at IWCE booth #823.
Further information on Tait UnifyVoice can be obtained by contacting Tait.
About SLA:
Based in San Luis Obispo, California, San Luis Aviation, Inc. dba SLA is a privately held product development and professional services corporation. Since 1991, SLA's team has been providing solutions for the United States Government for military and space satellite applications, as well as the wireless telecommunications industry. With a seasoned staff of engineering and business leaders, SLA's portfolio of Intellectual Property provides its basis for wireless networks and products deployed throughout the world. SLA possesses expertise in development of first generation through fourth generation (4G) wireless technologies, including CDMA, UMTS, LTE as well as other communication technologies.
For additional information, please visit:http://www.sla-ptt.com/.
About Tait Communications
Our clients protect communities, power cities, move citizens, harness resources and save lives all over the world. We work with them to create and support the critical communication solutions they depend on to do their jobs.
Digital wireless communication forms the central nervous system of everything we do. Around this resilient, robust core we design, develop, manufacture, test, deploy, support and manage innovative communication environments for organizations that have to put their total trust in the systems and people they work with.
We've worked hard to develop genuine insight into our clients' worlds, and have pursued engineering, operational and services excellence for more than 40 years. This understanding, and our belief in championing open-standards technology, means we can give our clients the best possible choice and value to achieve the human outcomes they're driven by.
More information can be found at http://www.taitradio.com/.
Press Contact:
For SLA / ESChat
Holly Luban
media@slacorp.com
For Tait Radio
Russell Watson
+64 21 2459848
russell.watson@taitradio.com