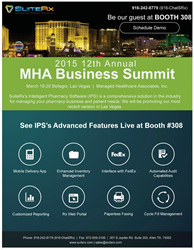 MHA Business Summit 2015 – SuiteRx will be highlighting the latest features of its version 9 pharmacy management system. Stop by booth #308 to see the most comprehensive solution for managing business and patient needs for any size LTC or Retail Pharmacy
Allen, TX (PRWEB) March 11, 2015
SuiteRx, innovative leaders in pharmacy performance management software designed for retail, Long Term Care, specialty, combo, and compounding pharmacy operations, announces the latest version of their IPS (Intelligent Pharmacy Software) in preparation for this year's 12th Annual MHA Business Summit in Las Vegas, Nevada. The newest version of the IPS pharmacy platform includes new business intelligence reporting capabilities, facility web portal technology for electronic medical records, and improved document management technology integration. The business intelligence reporting tools will help deliver predictable, productive and profitable projections by providing quality data to support management decision-making, heighten patient care, and reduce process bottlenecks. IPS alleviates pharmacy staff from the manual processes that are typically found in competitor software so they can concentrate on other tasks. With SuiteRx's fully integrated electronic document management module, it is easy to receive and fill prescriptions from any source, triage orders and maintain a clear and accurate audit trail. Along with the powerful reporting capabilities and enhanced document management system, the IPS facility and patient web portal will provide pharmacy businesses with extra leverage to collaborate with healthcare facilities and physicians while marketing their pharmacy services with technologically advanced tools. Thousands of dollars are lost every year due to limitations or restrictions of other pharmacy management software vendors. SuiteRx will help you invest that money back into your business by automating internal workflow processes.
"Being a part of the institutional pharmacy industry has helped me to gain an intimate understanding of the data needed by pharmacy operators. We help organizations work smarter and become more agile, which in turn enables them to be more competitive and to improve customer satisfaction. Leveraging your pharmacy data to help you make strategic decisions about your business is the difference between success and failure. We can help you analyze and organize large, complex data sets into practical, predictive intelligence so you can gain insight and examine your business performance on a more profound level." comments Dr. Nicholas Zener, CEO of SuiteRx. "As a previous institutional pharmacy director servicing over 10,000 patient lives, I know how pivotal it is to have access to important business metrics and the ability to share information efficiently and effectively across a company."
One current customer states: "We have all levels of pharmacy staff using IPS software. With our focus on growing our assisted living pharmacy business while maintaining our retail community services, we need a system that is flexible yet intuitive. No other software gives us the features and benefits like IPS for the price. We rely on the software and it's abilities to manage our business data. It's crucial to our success."
About SuiteRx, LLC
SuiteRx, LLC, is headquartered in Allen, Texas with development offices in Sacramento, California. The company started in 1998 and quickly grew to supporting over 100 independent pharmacies nationwide. Their mission is to provide the most complete, fully integrated, intuitive and intelligent pharmacy technology business platform. The SuiteRx IPS platform is a seamless system of pharmacy business intelligence, interfacing technologies, and operational services that provides maximum patient care, improved net profits, and a pleasant work environment for all pharmacies. SuiteRx is a pharmacy software vendor addressing the needs and challenges presented in the independent pharmacy market. Developed by pharmacists, IPS enables independent and small chain pharmacies to use state of the art pharmacy technology to better meet the needs of their customers, seamlessly fill prescriptions, utilize an integrated document management system and increase speed and accuracy in the pharmacy.
With retail, institutional, specialty and combo versions of the software, IPS is a comprehensive solution, integrating document management, mobile delivery, POS, inventory management, web portal capabilities and compounding into one seamless application.
###
For more information, please visit http://www.SuiteRx.com or email strategy(AT)suiterx.com.
Join us on LinkedIn
Like us on Facebook
Follow us on Twitter