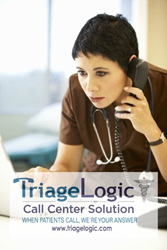 "Physicians love it because now the answering service and triage service work as one seamless entity. It provides the opportunity for any answering service to provide high quality nurse advice to their clients."
Jacksonville, FL (PRWEB) March 10, 2015
The new API allows any web-based answering service to submit a triage call to TriageLogic's Call Center Solution™ software directly from their platform.
Physician practices usually utilize an answering service to take messages when they close for the day and to contact the doctor if they receive a clinical call from a patient. Many practices would like a Registered Nurse to evaluate patients, allowing the provider to only be contacted in emergency situations. Answering services and nurse triage call centers typically run on different software platforms. However, because the answering service forwards the patient calls to the triage nurse, the two entities must coordinate with each other. In most call centers, the answering service takes a message and then faxes the information to the triage center. In another common scenario, the operator verbally relays the information to the triage center. Unfortunately, both of these modalities are time consuming and expensive.
With TriageLogic's answering service API, any answering service with web-enabled software can now send clinical calls to the nurse triage call center directly from their own answering service platform. This means that answering services can now offer triage services to their practices with minimal changes in workflow.
TriageLogic recently went live with Southern Voices Answering service. Jason, the manager from Southern Voices, says, "The API was very easy to implement if you have a compatible platform. We save valuable time on every call while providing expanded services to our clients." Ravi Raheja MD, TriageLogic Medical Director says, "Physicians love it because now the answering service and triage service work as one seamless entity. It provides the opportunity for any answering service to provide high quality nurse advice to their clients."
As an added benefit to this API, any answering service that integrates with the TriageLogic Call Center platform can send secure HIPAA compliant text messages to providers WITHOUT an app. Charu Raheja PhD, CEO of TriageLogic, says, "This is an exciting technology that enhances patient care and improves the on call experience for doctors."
About Southern Voices Inc:
Southern Voices Inc is a telecommunications service that has been serving the great people of North Carolina and the surrounding states for over fifteen years. For more information, please visit: http://www.southernvoices.com/.
About TriageLogic, LLC:
We are a URAC accredited, physician-led company, offering innovative nurse triage services and triage software. TriageLogic has a customized, cost effective product to meet your needs: nurse triage software for your call center or your office, an outsourced nurse triage service, or a combination of the two. For more information, please visit http://www.triagelogic.com.