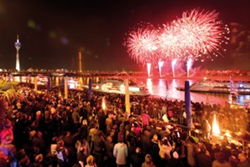 This elaborate showcase of Japanese culture showcases the beauty of Düsseldorf at the same time
Düsseldorf, Germany (PRWEB) March 05, 2015
The love between the city of Düsseldorf and Japan is mutual and strong, and the relationship has prospered over decades and shaped Düsseldorf's look and feel. The strong Japanese influence is clear to anyone who visits, because Japanese people, stores and restaurants are everywhere. The biggest celebration of this partnership is the annual Japan Day Düsseldorf / North Rhine Westphalia. The sheer attendance numbers alone – about 700,000 each year – show just how popular Japanese culture is in Düsseldorf and the region (2015 date: May 30). The annual event is now in its 14th year.
Japan Day is essentially an all-day (12 noon to 11pm) outdoor Japanese music, performance, and cultural celebration open to the public. There are performances of all kinds on three stages, a food and cultural show in booths along the Rhine River, and special workshops and events for all ages. This elaborate showcase of Japanese culture showcases the beauty of Düsseldorf at the same time. The festival takes place in some of the most popular attractions in the city – the historic Old Town and the Rhine River Promenade.
The event ends at 11:00 pm with spectacular Japanese fireworks, staged in scenes under this year's theme "Art of Fashion".
A special dinner and fireworks cruise is offered by the city's tourism office. From 6:00 pm to 12:00 pm, the boat tours the Düsseldorf Harbor, goes down the river to the city of Duisburg with views of the Barbarossa palace in Kaiserswerth along the way, then returns to Düsseldorf for the Japan Day grand finale fireworks. Price is 77 euros per person, including buffet. For more information and to book, visit; http://www.duesseldorf-tourismus.de/en/boat-trip-for-japanese-fireworks-duesseldorf/.
For more information on Japan Day, please visit: http://www.japantag-duesseldorf-nrw.de.
For those who want to experience the magic of Japan in Düsseldorf with an overnight stay or more, Düsseldorf Marketing & Tourismus GmbH offers a Japan Day hotel package for stays between May 29-31, 2015. The deal includes an overnight stay with breakfast at a centrally located hotel, a DüsseldorfCard for free use of public transportation in the city and discounts at many of the city's attractions. In addition, each guest will receive a Düsseldorf information set. Various accommodation packages are available between 45 - 62 euros per person based on double occupancy.
For full details of the hotel specials, go to https://www.duesseldorf-tourismus.de/nc/en/accommodation/hotel-packages/hotel-package-for-the-japan-day/.
# # #
Düsseldorf Marketing & Tourism GmbH is the visitors and convention bureau of the city of Düsseldorf. Its responsibilities include tourism and city marketing, as well as conference and meeting marketing, hotel reservation services, fairs and convention services, city event ticket sales and advance ticket reservations. For more information, visit http://www.duesseldorf-tourismus.de/en/home/.
Düsseldorf Airport, Germany's Next Generation HubTM, offers several non-stop flights from US & Canadian cities (Atlanta, Chicago, Ft. Myers, Los Angeles, Miami, New York, Newark), as well as convenient connections to many European cities. For more information about the airport, visit http://www.dus.com/en.