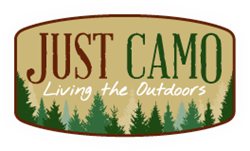 We try to send a newsletter out twice a month because we want to keep in touch with customers and make sure they're aware of new products that are coming out because we're adding to our store on a weekly basis
Richfield, WI (PRWEB) March 05, 2015
While the majority of the country is still grappling with record-breaking frigid temperatures, Just Camo is gearing up for warm weather by releasing a new issue of their bi-monthly newsletter, featuring a variety of new camouflage clothing, swimwear, and accessories.
Customers on the newsletter mailing list are first to receive notice of special promotions and sales. The current issue includes a special promo code for 10% off all orders store wide, as well as free shipping for all orders over $99. Both offers expire on March 15.
"We try to send a newsletter out twice a month because we want to keep in touch with customers and make sure they're aware of new products that are coming out because we're adding to our store on a weekly basis," explained Judy Babiasz, marketing coordinator at Just Camo.
The spring and summer inventory update includes a variety of mix and match swimwear from Wilderness Dreams. In addition, Wilderness Dreams introduced black boy shorts and string bikini bottoms to complement their camo swimwear line.
Camouflage-patterned grill tool sets are now available, as well as other camo accessories for outdoor entertaining. Just Camo also has a large selection of beach towels, men's and women's sunglasses, and Montana West Rhinestone Flip Flops.
"Come spring, we're anxious to see how these products will be received by customers. We're excited to be offering them," said Babiasz.
Babiasz also encourages customers to frequently visit Just Camo's website and review the "What's New" category for inventory updates. Customers can join Just Camo's mailing list and sign up to receive newsletters via the company website or Facebook page.
"I really enjoy seeing Just Camo shoppers who, every time we send out a newsletter, they place an order. It's great to see a spike in interest once these go out and we know many people take advantage of these sales," she explained.
About Just Camo
Just Camo lives by the motto "Living the Outdoors," offering over 1,400 camouflage and nature-related products. Their products range from clothing, including outerwear, loungewear and lingerie, jewelry and purses, to home decor items, auto accessories, wedding gifts and more. To learn more about Just Camo, visit http://www.justcamo.com