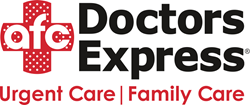 It was a necessary and much needed change since the clinic is getting busy these days
Denver, CO (PRWEB) March 05, 2015
Shaylin Fox, the newest PA-C at Doctors Express Cherry Creek in Denver, has recently been board-certified to be a family practitioner at the urgent care center after being a strong staff member there since the fall of 2014. Fox has been a physician assistant since 2012, and before she came to work at Doctors Express Cherry Creek, she worked at a hospital's urgent care facility in southeastern New Mexico. Fox became interested in the family practice area of urgent care health facilities while she was working in New Mexico, and when she saw a physician assistant job opening at Doctors Express Cherry Creek, she immediately applied for the position and was asked to the join the team of dedicated healthcare professionals.
According to Fox, Doctors Express Cherry Creek decided to open up another family practitioner position for her so that the facility could see more patients while cutting down on wait times.
"It was a necessary and much needed change since the clinic is getting busy these days," explained Fox.
On February 16, 2015, Fox was officially certified to become a family health care practitioner at the urgent care facility, where she sees patients, makes diagnoses, and prescribes medication. As a family practitioner on the Blue Cross Blue Shield roster, Fox is now able to provide healthcare services to regular patients while also providing urgent care treatment for the Denver region.
"I like being able to do both urgent care and family practice," states Fox. "There are very few jobs that allow one to do both, so I was very excited that this position at Doctors Express Cherry Creek has given me the opportunity to do what I love. I enjoy being a family practitioner because it allows me to build a relationship with patients. In family care, my patients visit me on a regular basis, which allows me to see if I'm treating them effectively and which helps me improve."
About Doctors Express Cherry Creek
Doctors Express Cherry Creek has a physician on-site seven days a week. Their urgent care service offerings include family care, x-rays, lab testing, flu shots, sinus pain care, physical exams and more. Patients visiting Doctors Express Cherry Creek can get quality medical assistance and treatment for common illnesses without having to experience the long wait times and costly bills of an ER visit. To learn more, visit doctorsexpresscherrycreek.com