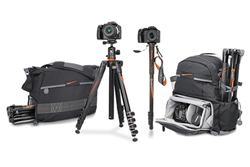 The VEO Collection is the ideal option for photographers looking to minimize luggage and maximize impact.
Whitmore Lake, MI (PRWEB) April 01, 2015
Vanguard, global leader in photo-video accessories and sports optics, is proud to introduce the VEO Collection of travel tripods, monopods, and camera bags. With an emphasis on lightweight, durable construction and slim silhouettes, the VEO Collection is tailor-made for travel photographers. "Vanguard's new VEO bags, tripods and monopods are ultra-compact and lightweight to complement the travel photographer's lifestyle," said Director of Global Marketing Joshua Pawlak. "But, as a departure from the travel lines you may have come to know, the collection also offers some of the advanced features of robust, full-sized camera-support systems."
The VEO tripod collection is the industry's first traveler tripod with the all new, patented rapid column rotation feature. Rapid column rotation allows the VEO tripod to fold into a super compact travel size and helps you set up more quickly. Even with its remarkable portability, VEO tripods and monopods do not sacrifice sturdiness. Equipped with adjustable extra strong leg locks, VEO tripods and monopods each have a higher loading capacity than others of its kind. VEO camera bags were designed to pair seamlessly with VEO tripods and monopods. With innovative tripod carrying systems, the VEO messenger bag and backpack allow photographers to pack their compact VEO tripod or monopod as carry-on. "The VEO Collection is the ideal option for photographers looking to minimize luggage and maximize impact," Pawlak said. "VEO matches its competitors in terms of portability, but exceeds them with innovative and advanced features."
The VEO Collection was inspired by the work and informed by the needs of passionate travel photographers. To support the launch, Vanguard is proud to have partnered with some of the best travel photographers in the industry. The VEO Collection will know its way around the world with the Vanguard Professionals team: including Laurence Norah, president of the Professional Travel Bloggers Association and founder of travel blog "Finding the Universe;" Pete Heck, National Geographic Traveler of the Year winner and one half of the traveling couple "Hecktic Travels;" as well as by Josh Bender, of the popular travel blog "Travel with Bender."
Pricing on VEO tripods start at $119.99, and the VEO 265-CB carbon fiber tripod sells for $279.99. VEO monopods range from $39.99 to $119.99. The VEO 37 shoulder bag sells for $69.99 and the VEO 42 backpack for $89.99. The VEO Collection will become available this spring through Authorized Vanguard Dealers. Please visit http://www.vanguardworld.com for more information.
About VANGUARD
Since 1986, VANGUARD has been one of the global leaders in photo/video and outdoor accessories, including tripods, camera bags and optics. With first-of-their-kind features and capabilities, VANGUARD's comprehensive product range meets the needs of a diverse range of all those who enjoy photography, from the hobbyist to the professional. With ISO 9001 and 14001-certified facilities and hundreds of design patents, VANGUARD has earned a solid reputation that spans the world. Visit http://www.vanguardworld.com