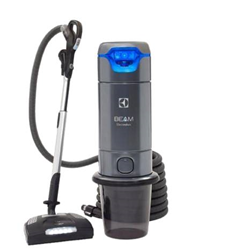 The survey results reflect our commitment to help builders make their homes stand out with an upgrade that allows buyers to enjoy life's messy moments.
Charlotte, N.C. (PRWEB) March 10, 2015
Builders have rated BEAM Central Vacuum Systems by Electrolux as the highest quality central vacuums on the market, the brand builders are most familiar with, and the central vacuum brand builders install most often, according to a study by Hanley Wood, publisher of the leading builder trade magazines.
In a survey of 2,299 subscribers to BUILDER, Custom Home and EcoBuilding, BEAM earned a quality rating of 5.46 - tops among six competing central vacuum brands. The results mark the 11th year in a row that BEAM has earned the No. 1 quality rating in the BUILDER Brand Use Study.
BEAM by Electrolux also led the pack in brand familiarity. Seventy-eight percent of respondents listed BEAM as a central vacuum brand they are familiar with. Twenty-five percent of respondents overall and 33 percent of builders of luxury homes identified BEAM by Electrolux as the central vacuum brand they install most often. The number of luxury home builders installing BEAM systems outpaced the nearest competitor by 20 percentage points.
"The survey results reflect our steadfast commitment to help builders make their homes stand out by offering buyers an upgrade that allows them to enjoy life's messy moments. With a BEAM system, buyers gain the confidence they need to clean any mess with a product that delivers reliable built-in convenience and healthy indoor air quality," said Jim Carmichael, central vacuum category manager for BEAM-Electrolux.
"Building materials are ever-changing and the more we can learn about the brands builders prefer, the better we can understand what materials are important to them." said Paul Tourbaf, Group President of Hanley Wood's Residential Construction Group, which publishes BUILDER and the Brand Use Study.
"Builders are curious to know which brands are used most and preferred as well as which brands have the highest quality rankings by their peers. The Brand Use Study will influence builders to consider other brands. In fact, 63 percent of the builders surveyed are willing to try new brands," Tourbaf added.
BEAM Central Vacuum Systems by Electrolux can be purchased from independent, installing BEAM dealers. You can locate the dealer nearest you at beam.com.
Electrolux Central Vacuum Systems is the world's leading producer and marketer of built-in central vacuums. The company's BEAM, Electrolux and Eureka Central Vacuum Systems are sold in 50 countries around the world.