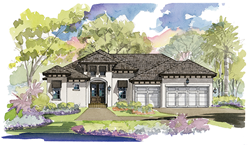 Tampa, FL (PRWEB) March 05, 2015
Arthur Rutenberg Homes, a luxury custom homebuilder, published a new article on reading custom luxury home floor plans.
The article reflects on the value of understanding floor plans including elements such as, does the layout match the customer lifestyle, are spaces too big or small, and does the layout flow?
The article additionally covers the basics of reading floor plans as most consumers are not familiar with many of the elements on a plan and what many of the call-outs on a custom home plan mean.
The basics of house floor plans can include, the legend and why size and scale is critical to understanding plans, understanding doors, windows and entrances, and stand out features and how they affect how a finished home will end up.
That article does a good job of explaining the elements to keep in mind for consumers including house-to-lot ratios, privacy concerns, and comparing scale.
When consumers are better able to understand the plans from which their homes are built, they are less likely to run into issues once their new luxury home construction begins.