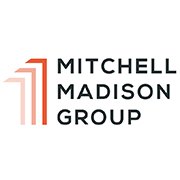 "We take pride in our partnerships and only invest with select clients to execute tangible improvements and deliver noticeable value quickly."
Jackson, Wyoming (PRWEB) March 06, 2015
Mitchell Madison Group (MMG), a leading provider of professional consulting services to Fortune 500 organizations, today announced that it has contracted with a large, US-based software organization with nearly $2.5 billion in revenue to support its "Business Transformation" project by helping to improve operating efficiency while improving business performance results including customer satisfaction levels.
The project began earlier this month and will provide for MMG's assistance through education, research, project management, process improvement, and benchmarking for specific projects to be determined by the software organization.
"We're excited to begin work on this project, because we know Mitchell Madison Group will be able to help this organization make great strides toward its goal of business transformation," said Hans Dau, Managing Partner of Mitchell Madison Group. "We take pride in our partnerships and only invest with select clients to execute tangible improvements and deliver noticeable value quickly."
The next steps for MMG as part of this business transformation initiative will include working with the client to determine specific projects, milestones and completion dates. The project is expected to wrap up near the end of the first quarter in 2016.
"I think Mitchell Madison Group is the perfect partner to help with this particular business transformation project," said Steven McQueen, Vice President of Sales and Marketing at Mitchell Madison Group. "We plan to come alongside the organization, immerse ourselves in their operations, and truly partner with them to make a difference. We're dedicated to providing a lot of time and resources to help them achieve their goals."
About Mitchell Madison Group
Mitchell Madison Group, founded in 1992, has revolutionized the world of management consulting for its client base made up of primarily Fortune 500 organizations with its focus on short-term performance improvement and providing measurable outcomes. Recognizing the importance of being able to serve clients more flexibly, the firm is structured along four lines of business: Performance Improvement, Strategic Services, Business Analytics and Staff Augmentation with offices and resources located in the US, Europe and Asia. The team is comprised of former C-level executives who have decades of consulting and management experience and are supported by younger analytical talent with diverse backgrounds. For more information, visit http://www.mmgmc.com.