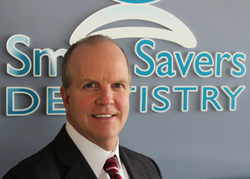 This is one of the most amazing procedures I have used in over 26 years of practice. My patients are so happy and thankful when the treatment is complete.
Columbia, Maryland (PRWEB) March 10, 2015
Dr. Daniel C. Stewart belongs to a select group of dental professionals who are certified to perform laser gum surgery, a minimally invasive alternative to traditional gum surgery. Only one percent of dental professionals in the country currently offer the Laser Assisted New Attachment Procedure (LANAP®), which uses sophisticated laser technology to eliminate periodontal infection. Dr. Stewart recently began offering patients with periodontal disease this gum surgery alternative in his Columbia, MD dental practice, Smile Savers Dentistry. The LANAP® treatment is the first FDA-cleared laser procedure for gum disease and periodontal treatment and is only available from a few dentists in Howard County.
Prior to LANAP®, traditional surgery was typically the only option available to patients whose gum disease had progressed into the moderate or advanced stages. Because of the pain and recovery time associated with traditional gum surgery, many people postpone seeking the care they need. If left untreated, gum disease eventually results in tooth and bone loss. Significant bone loss can even render a patient ineligible for tooth replacement solutions like dental implants. However, the LANAP® treatment is less invasive than traditional surgery, so patients typically experience less pain and a much shorter recovery period. At the same time, the LANAP® treatment offers all of the same health benefits as other gum disease treatments; it can help fix bleeding gums and prevent further damage from periodontal disease.
To perform the procedure, Dr. Stewart uses the PerioLase® MVP-7™, which destroys bacteria and removes diseased tissue. After he has removed the diseased tissue, Dr. Stewart uses an ultrasonic scaler to remove tartar deposited below the gum line. He completes the procedure by using the laser to stimulate the alveolar bone and cauterize the surgical site. The stimulation can help the bone regenerate and cauterizing seals the site lowering the risk of infection. Since no cuts are made and no sutures are placed, patients who opt for this gum surgery alternative in Columbia, MD, usually experience little pain or bleeding. They also may recover from the procedure more quickly. Dr. Stewart stated, "This is one of the most amazing procedures I have used in over 26 years of practice. My patients are so happy and thankful when the treatment is complete."
LANAP® treatment offers numerous benefits for oral health; the procedure can fix bleeding gums, reduce discomfort, and help prevent tooth loss. However, many people do not realize the LANAP® protocol also offers general health benefits. As gum disease advances, harmful bacteria are able to enter the bloodstream through the gums. This may cause inflammation and raise the risk of various systemic health problems. Studies have shown people with gum disease are more likely to develop serious conditions such as heart disease and stroke. People who limit their exposure to the disease by seeking treatment early may mitigate these risks.
Early gum disease symptoms can include swelling, redness, bleeding, and pain. Patients who notice these issues should schedule a consultation with Dr. Stewart to discuss treatments to fix bleeding gums and other bothersome symptoms before the disease progresses. Patients can call the Smile Savers Dentistry office directly at 410-730-6460 to make an appointment, or visit the Smile Savers Dentistry website to learn more about this gum surgery alternative in Columbia, MD.
About the Practice
Smile Savers Dentistry is located in Columbia, Maryland and has been serving the dental needs of the Howard County community for over 25 years. The office is convenient to Baltimore and Washington, D.C. The goal of Dr. Daniel C. Stewart and his staff is to educate and serve their patients in a relaxed and engaging environment. The practice offers regular and emergency dental exams and treatments, to the more advanced procedures like dental implants, veneers, crowns, Invisalign and LANAP laser gum surgery. Learn more at marylandlanap.com.