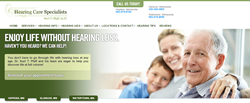 Every patient has their own story and their own lifestyle...The more I get to know them as a person, the more appropriate recommendation I can make.
Hopkins, Minnesota (PRWEB) March 05, 2015
HealthyHearing.com, an online resource for hearing health information, recently profiled Dr. Kurt T. Pfaff, audiologist and owner of Hearing Care Specialists in Minnesota. In the interview, Dr. Pfaff shares his viewpoints on the importance of providing hearing care that focuses on each individual's personal experience with hearing loss.
"I really don't feel one size fits all," said Dr. Pfaff. "Every patient has their own story and their own lifestyle. As a professional, I have to inquire about those individual needs to understand how their hearing loss is affecting them. The more I get to know them as a person, the more appropriate recommendation I can make."
It's this unique, personalized approach to patient care that helps to distinguish Hearing Care Specialists from other practices. By working together closely with patients for more than 20 years, Hearing Care Specialists has been able to deliver the best hearing solutions to each individual, one patient at a time.
According to Dr. Pfaff, "Audiologists are problem solvers. Our skill is being able to identify the problem, figure out where the patient's mindset is and then educate and guide patients into understanding their hearing will never be normal again, but they can have a normal lifestyle."
Dr. Pfaff is hopeful that his interview, with a reassuring and motivating message about hearing health, will enable him to reach people in Minnesota who may be hesitant to seek professional help for their hearing loss. Most cases of hearing loss are highly treatable and advances in technology have made affordable, powerful, and discreet hearing aids available to the public.
"The newest advances in hearing technology go well beyond meeting patient requests for better hearing in noisy situations, such as restaurants and crowded social gatherings," Dr. Pfaff said. "Today, we can offer discreet hearing instruments with wireless connectivity options that enable people to steam sound hands-free from mobile and landline phones, TVs, MP3 players and other communication devices. Video chatting or enjoying music and videos on personal computers is now easier than ever – and for people in the workforce, we can also help them to connect wireless to digital office phones."
The complete interview with Dr. Pfaff is available here. For more information about Hearing Care Specialists and hearing health, visit the practice website at http://www.hcshearing.com or call the contact numbers below.
About Hearing Care Specialists
Hearing Care Specialists is a full-service audiology practice located in Minnesota, with locations in Hopkins, Glencoe, and Watertown. Equipped with state-of-the-art technology and compassionate staff, Hearing Care Specialists offers comprehensive services including hearing tests, hearing aid evaluations, custom hearing aid fittings, hearing aid cleanings, rehabilitative counseling, preventive care advice, and service and repair for all hearing aid models. With services delivered in a relaxed and comfortable atmosphere, Hearing Care Specialists is Minnesota's leading destination for better hearing.
Contact:
Kurt T. Pfaff, Au.D.
Hearing Care Specialists
952-679-8700
http://www.hcshearing.com
Three Minnesota locations:
Hearing Care Specialists
10417 Excelsior Blvd, Ste 2
Hopkins, MN 55343
952-679-8700
Hearing Care Specialists
1130 Hennepin Ave N
Glencoe, MN 55336
320-300-4852
Hearing Care Specialists
200 Lewis Ave S, Ste 220
Watertown, MN 55388
952-679-8699