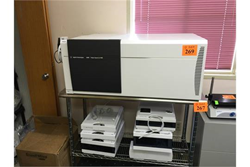 Fort Wayne, IN (PRWEB) March 07, 2015
A live simulcast auction to sell over 350 lots of equipment from two recently closed Pain Management and Diagnostic Clinics will be hosted by Centurion Service Group, the world's largest medical auction house. The auction will be on Tuesday, March 10, starting at 10:00am EDT. Various items will be sold including high-end lab and radiology equipment.
This simulcast auction will have no on-site bidding: interested buyers must register on Centurion Service Group's website: http://www.centurionservice.com. Those who would like to inspect the equipment before bidding may do so from 9:00am-4:00pm on Monday, March 9th at the two clinic locations: 6819 Lima Road, Fort Wayne, IN 46818 and 3301 W. Fox Ridge Lane, Muncie, IN 47304.
Auction highlights include a 2003 Fonar Upright MRI, two GE OEC 9900 Elite C-Arms, a 2010 GE Silhouette VR Digital X-Ray System, a 2011 Ziehm Quantum C-Arm, a Agilent Technologies Rapidfire 300 Mass Spectrometry System, a Agilent Technologies 6460 Triple Quad LC/MS System and a Beckman Coulter Unicel DXC 600IL. The online catalog with photos and descriptions of all items is available on Centurion Service Group's website http://www.centurionservice.com.
About Centurion Service Group, LLC
Centurion Service Group is the largest medical equipment auction house in the world, with locations in Chicago, IL, Las Vegas, NV, and Fort Lauderdale, FL. Every month over 6,000 lots of unique and diverse medical equipment are sold in their on-site and simulcast auctions making them a one-stop shop for all medical equipment buyers. Centurion Service Group works with hospitals, health systems, surgery centers, radiology centers, and other medical facilities to sell their surplus medical equipment and other assets.