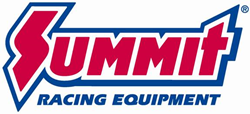 Tallmadge, OH (PRWEB) March 09, 2015
MSD Blaster Coil Packs are direct bolt-in replacements for 4.6L, 5.4L, and 5.0L Coyote engines. The housing is the same as the factory units, but on the inside MSD engineers used a patented primary and secondary winding design that are made with better materials than OEM.
That means a hotter spark across the spark plug gap—around 25,000 to 32,000 volts depending on the applications—to improve combustion and increase performance.
The MSD Blaster Coil Packs fit the factory coil connectors and are available individually or in sets of eight.
Summit Racing Equipment
http://www.SummitRacing.com
1-800-230-3030