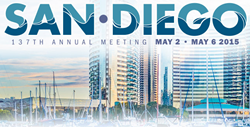 When valuing IP, the specific asset to be valued needs further research and analysis, and those benefits specific to the subject asset need to apportioned, or analyzed separately from the profits achieved by the entire business
San Diego, CA (PRWEB) March 07, 2015
Nevium Intellectual Property Solutions, a California-based intellectual property consulting firm, was recently selected to present at the International Trademark Association's 137th Annual Meeting in May 2015. Doug Bania and Brian Buss, the founders of Nevium Intellectual Property Solutions, will be providing a luncheon table topic presentation entitled Internet Analytic Tools for Brand Valuation, Damages and Defamation; as well as answering questions at Nevium's booth throughout the five-day event.
INTA's Annual Meeting, which is considered one of the biggest brand and trademark events in the industry, involves more than 9,000 legal professionals from over 140 countries around the world. According to INTA's website, the 137th Annual Meeting will be one of the best ways to make new contacts, meet with existing partners and colleagues, obtain continuing legal education credit, and network with some of the most successful lawyers in the world, all taking place in San Diego, California.
Nevium's luncheon table topic presentation is scheduled for Sunday, May 3rd from 12:00 PM to 2:00 PM. Whether dealing with defamatory statements appearing on first page search results, or trademark and right of publicity infringement; understanding the tools and methodologies available for calculating damages that occur on the Internet and in social media is critical in litigating today's infringement, false advertising and defamation disputes. As computer and smartphone screens are the new corner stores for businesses of all sizes, Internet search and social media are supplanting traditional advertising and marketing. Therefore any analysis of IP infringement and defamation should include website and social media analytics, and today's attorneys and experts must be able to gather, analyze, understand, and explain this new world of marketing data.
Nevium specializes in the valuation and analysis of intellectual property assets. Nevium's expertise expands across the music, apparel, food, entertainment, publishing, consumer products, technology, not-for-profit and automotive industries. Nevium has worked with a wide range of attorney clients regarding issues including: trademark infringement, brand disparagement and brand defamation; economic damages calculations; brand valuation; right of publicity claims; patent valuation; Lanham Act claims, domain name valuation; copyright infringement; business ownership disputes and bankruptcy; asset transfers; taxation disputes; and licensing customs and practices. Nevium's two principals: Doug Bania, CLP; and Brian Buss, CFA; each have over 13 years of experience providing expert opinions in intellectual property litigation. In addition to their work as intellectual property experts in litigation; Nevium provides management, transaction and valuation advisory services, bringing actual transaction experience to their expert witness engagements.
With a focus on IP, Nevium understands that the analysis or valuation of Intellectual Properties requires an additional analytical component compared to business valuation, an apportionment of profits achieved by the entire business. According to Nevium's website: "When valuing IP, the specific asset to be valued needs further research and analysis, and those benefits specific to the subject asset need to apportioned, or analyzed separately from the profits achieved by the entire business."
Nevium's experience and ability to apply innovative analytical solutions to complex problems enables our team to accurately identify and apportion the benefits derived from IP.
Individuals interested in learning more about Nevium and its work can visit their website, https://nevium.com/, for additional information. Clients are also welcome to subscribe to Nevium's LinkedIn and Google+ accounts for frequent updates from the Firm.
About Nevium:
Nevium provides solutions for valuing, managing and maximizing the value of its clients' intellectual property and intangible assets. The company is also experienced in calculating damages in litigation disputes. Nevium is committed to building long standing relationships, and the company strives to educate and inform each and every client such that they become trusted partners by using a collaborative approach. For more information about Nevium's participation at INTA's 137th Annual Meeting, please visit https://nevium.com/intellectual-property-resources/inta-annual-meeting.