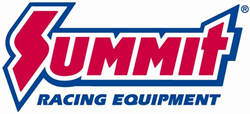 Tallmadge, OH (PRWEB) March 10, 2015
SPC Performance made a name for itself with high quality control arms, wheel alignment components and tools, ball joints, and other suspension parts for musclecars and the tuner crowd. Now SPC has taken that expertise and applied it to off-road suspension goodies fo Nissan trucks and SUVs.
Summit Racing offers these SPC Performance off-road components:
Adjustable Upper Front Control Arms
Lifted Nissans often run out of factory adjustment when lift kits are installed. Additionally, the OEM upper control arm can contact the frame, limiting droop travel and causing unwanted noise and harshness. These tubular control arms are fully welded from heavy-duty DOM steel tubing. and can be adjusted for both caster (-one to +three degrees) and camber (+/- two degrees). The control arms are assembled with adjustable ball joints and SPC's SpecRide™ bushings that feature free-moving pivot sleeves to eliminates bushing failure caused by high travel suspensions. The control arms fit 2005-2012 Nissan Frontier, Xterra, and Pathfinder.
Light Racing JounceShock Systems
The Light Racing JounceShock systems function as a secondary suspension system to help eliminate suspension bottoming and increase stability, handling, rock crawling abilities, and towing capacity.
JounceShocks are not engaged at normal ride height and don't affect on-road ride and handling. But off-road or hauling heavy loads, the factory suspension will compress and engage the JounceShocks. The shaft inside the JounceShocks compresses the nitrogen gas, increasing gas pressure. This allows the shock to stiffen smoothly, like an air spring, to keep the factory suspension from bottoming out.
The Light Racing JounceShocks are externally adjustable for compression and rebound, feature nitrogen and oil-filled internal construction, and have a 2 3/8 inch diameter bore. They have a threaded top mount to reduce installation time and are fully rebuildable. JounceShocks are available for 2005-10 Nissan Frontier and Xterra, front and rear.
Adjustable Cam Bolt Kit
These heavy-duty cam bolts replace the lower control arm cam bolts with no modifications. They allow camber and caster adjustments of +/- two degrees. The bolts fit 2004-2010 Nissan Frontier, Xterra, Pathfinder, Titan, and Armada.
FasTrax Caster-Camber Gauge
The Off-Road FasTrax camber caster gauge lets enthusiasts make hands-free alignment angle checks or adjustments in the shop or out on the trail:

Extended toe arms make it easy to measure toe on all types of off-road tires
Displays camber +/- 4 degrees and caster from -4 degrees to +12 degrees
• Included gauge and wheel mounts fits most wheels from 13 to 17 inches and tires up to 44 inches in diameter

Tape measure and bungee cord included
The FasTrax Caster-Camber Gauge can be used on most any vehicle. Watch this video to learn how to use it.
Summit Racing Equipment
http://www.SummitRacing.com
1-800-230-3030