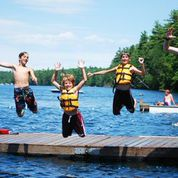 Camp is where kids set and achieve goals, try new things, value being part of a group, take responsibility, and develop social skills. From camp, kids emerge more confident, capable and considerate.
Portland, ME (PRWEB) March 10, 2015
Forget the snow and arctic blasts … the 100 day countdown to summer camp is on! The week of March 16 marks the countdown to the start of summer camp, which begins the week of June 21 (first days range from June 21-28), and kids everywhere are cheering with summer in sight.
"Summer camp is often kids' 'happy place' – their home away from home where they will unplug from technology, unwind from the pressures of school, connect with nature, make new friends, learn new skills, have fun, and so much more," said Laurie, the Campcierge™, Maine Camp Experience.
Child development experts and parents agree that overnight camp provides many benefits and has a lasting impact. Todd Kestin, a youth mentor, shares, "Camp is the place where kids set and achieve goals, try new things, understand the value of being part of a group, and learn life skills to take responsibility, and develop social skills for meaningful relationships. From camp, kids emerge more confident, capable, and considerate of others."
Parents likewise see many advantages of summer camp. Maine Camp Experience, a resource and community of 30+ premier Maine summer camps, surveyed its camp parents about how camp benefits their kids. Below are 40 reasons they provided.
What are the biggest benefits your child receives from attending his/her Maine camp, especially after camp ends?:
1. Independence
2. Learning to enjoy the outdoors
3. Having the opportunity to have so many positive male [and female] role models
4. The ability to see and understand others' perspectives
5. The ability to lose and win graciously
6. Exposure to different cultures, nationalities, religions & racial and ethnic groups
7. Mentoring younger kids
8. Being a role model
9. Learning to self advocate
10. Positive attitude
11. Confidence in competing in sports
12. Learns life skills that will help them now and later on in life when they go to college
13. Make lasting friendships
14. She gets to experience her family's love and affection in a different manner (i.e., with letters)
15. She gets to try new things, including failing on occasion
16. Willing to eat different foods
17. Easier making friends
18. More responsible
19. Helps with chores
20. More social
21. More thoughtful
22. Great table manners
23. Learning to live with others
24. Respect for others
25. Great sportsmanship during year round sports
26. Ability to take chances
27. Able to pursue independent interests
28. More organized
29. Self-sufficiency
30. Willing to try new things!
31. Core good values
32. Respect for tradition
33. Teaches my child perspective and their role in leadership activities and how they can contribute to the community they reside in
34. Self confidence
35. Maturity
36. The enjoyment of unplugging
37. Helpful
38. They look out more for each other
39. Connect more to our roots
40. Invaluable relationships with other camp families
The survey was conducted among families across the country, with kids attending and/or alumnus of any of the more than 30 Maine Camp Experience camps.
Now is the time to research and enroll kids in camp for summer 2015, as well as plan camp tours for this summer for 2016 enrollment. [Maine Camp Experience camps are dedicated to providing children with the highest quality summer camp experiences in the country. Each summer, approximately 20,000 kids and their families enjoy what these Maine camps offer – the perfect combination of natural beauty, magnificent lakes, strong traditions and values, and top-notch instruction and activities. http://www.mainecampexperience.com is the resource for all things summer camp and Maine, which features tools to help families such as Select-A-Camp and the Campcierge™ who provides free, personalized guidance via email, phone and live chat. There are also videos, self-posted testimonials by camp families, camp planning tips, and much more.
# # #
Contact:
laurie(at)mainecampexperience(dot)com; 917-593-2982