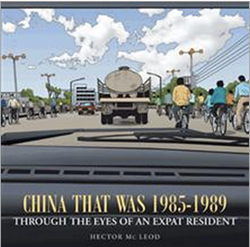 If you read any Chinese history or events written by expats; they all show how over the centuries, ruling party power has risen, become corrupt, fallen and another rises. My story is another small chapter in this cycle
SYDNEY (PRWEB) March 07, 2015
"One's destination is never a place, but a new way of seeing things." – Henry Miller
These powerful words capture the spirit, wisdom and worldliness of Hector McLeod, a man who has resided in or visited more than 50 countries.
McLeod lived in China between the years of 1985 and 1989 and was amazed by both the people he encountered and the drastic industrial changes he witnessed during this 4-year span. His new book, "China that was 1985-1989: Through the eyes of an Expat resident" explores both day-to-day life as well as the rapid modernization caused by the power and occasionally corruption of the ruling party at the time.
"If you read any Chinese history or events written by expats; they all show how over the centuries, ruling party power has risen, become corrupt, fallen and another rises," McLeod said. "My story is another small; very small chapter in this cycle."
In addition to his time in China, the book also narrates a special safari in Kenya and Zimbabwe when McLeod and his wife were out of country during the infamous Tianman Square event.
"China that was 1985-1989: Through the eyes of an Expat resident"
By Hector McLeod
Price: $29.99
ISBN: 978-1-4525-488-7
Available at: Amazon, Balboa, and Barnes and Noble online bookstores
About the Author
Hector McLeod is retired and lives in Sydney, Australia. In spare time, he enjoys traveling and volunteers with four separate organizations including Hammond Care. He's been married twice and has 16 grand children and 7 great grand children. "China that was 1985-1989" is his first book.
###