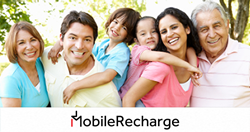 El servicio es bueno y rápido . Excelente la existencia de chat con asesores para despejar inquietudes . (Bertha on Trustpilot.com)
Atlanta, Georgia (PRWEB) March 07, 2015
MobileRecharge app for international top ups is now free to download in Spanish for Android devices. The app is useful for all Hispanic expats worldwide willing to top up a mobile of their family or friends in their native countries from Latin America. Once the app installed, anyone can send mobile credit from their smartphone to any mobile in the world.
Top ups can be made to countries in South and Central America like Cuba, Mexico, Argentina, Bolivia, Guatemala, Dominican Republic, El Salvador, Honduras, Brazil, Chile, Colombia, Costa Rica, Nicaragua and many more. It is ideal to send mobile credit as a gift or to support family or friends back home.
The Android version is now accessible in Spanish too, besides English, all due to Hispanics' feedback. MobileRecharge.com Latin American fans and friends shared their feedback eagerly to convince MobileRecharge app developers to work on a Spanish skin too. Nothing else changed, all functions stay the same.
MobileRecharge.com has been set up as a service that helps people living in residential countries to transfer mobile credit from their MobileRecharge.com account to mobiles in other countries, most often in countries they immigrated to.
Mobile credit transfers via MobileRecharge app are also known as top ups or airtime. They are one of the simplest ways, if not the simplest, to support folks and friends in Central and South American countries. It's also widely used to send a swift gift abroad that suits all tastes.
Top ups are ready in less than 1 minute. It not only saves time, but also money. The processing fee is the lowest on the international market. It can be made during a coffee break or on the way from work home, due to the simple interfaces and easy processing. The amount reaches its destination instantly. This video explains better how it works: https://www.youtube.com/watch?v=QOQKb744FDs
For those looking for a last minute gift, especially when long-distance is involved, MobileRecharge app is the solution. Going shopping or gift hunting may be relaxing for some of us, but only sometimes. Yet when it comes to last minute gifts it's like a curse or a punishment to brainstorm, browse, find something worth the trouble and also suitable, and then find a way to send it fast and have the confirmation.
Many prefer to make a mobile recharge instead of sending money for at least 3 reasons:

the mobile credit transaction is simpler than money and is instant
some want to control how the money they send home will be used, especially if that money goes into credit anyway
it is an option to add bonus credit while paying nothing extra due to the daily promotions
The Spanish version of MobileRecharge app is available for Android only and is dedicated to all Latin Americans in the USA, Canada or other parts of the world, who prefer to use their native language when operating an app like MobileRecharge.
MobileRecharge app has been set up due to customer feedback. It is a most awaited option because it facilitates mobile credit transfers from app to mobile no matter the distance. Mobiles in 120+ countries and pertaining to 350+ operators are ready to receive mobile credit from abroad.
Why such an app like MobileRecharge? Pretty simple. There are roughly 6 billion active cell phones in the world out of the 7 billion world population. So then, it comes naturally to assume that in today's world characterized by cross-country mobility, mobile recharges or international top ups are popular because they are necessary.
Thousands of hundred expats globally using MobileRecharge app. A recent article on slate.com explains why the Mexican-Americans are the second most successful group in the USA taking into consideration that they started from the bottom. Cubans, on the other hand, are top of the adventurers when it comes to destination and distance. They got not only to Canada and the USA, but as far as Russia, China, India, Germany, Ukraine, UK and other far-far-away lands.
Hispanic expats brought their spicy habits and their passionate spirit to the new lands. One of the great things any tourist or local reports on United States or Canada is the multicultural way of living, and that is to a great extent due to Latin Americans too. Far away from family and friends, expats have the MobileRecharge app to support their family back home or send an instant gift from their comfy armchair.
Other advantages of using MobileRecharge app:

Direct access to phone contacts
All invoices displayed in the account
Access from any Android or iOS device
Best value on the market for international top ups
Best deals in terms of amount - price ratio
Instant processing
All international credit/debit cards accepted regardless of card currency
PayPal accepted
Direct access to phone contacts in order to select the number to top up
Online access to orders and invoices
24/7 friendly and kind Customer Support by chat & email in English, Spanish and other languages
The MobileRecharge app displays daily bonuses that amount to 800% extra credit for some countries. Banners have real time updates. Countries in South and Central America get 100% to 800% free extra credit during promotions. Most common bonuses are on refills to Mexico, Cuba, Colombia, Nicaragua, Dominican Republic, Guatemala, El Salvador, Ecuador, Honduras and Costa Rica. And almost every month, "Doble Bono" is the rhythm to send gifts to Cuba consisting of mobile credit.
How to make a mobile recharge using the MobileRecharge app?
First, the app requires the customer to be logged in, and next to fill in few data related to the phone number, country, operator and amount to be sent. The phone number to be recharged may be selected from the phone's Contact list. If the specific number has not been saved in the phone's agenda, the keypad can be used to enter it digit by digit.
To wrap it up, MobileRecharge app is now available in Spanish besides English for Android users. It is dedicated to expats worldwide, including Hispanic. Anyone can send mobile credit to relatives and friends home using MobileRecharge app. Zero costs to install it, plus it is not only available in English but now in Spanish too for Android! That sets it among the most appealing.
About MobileRecharge.com
MobileRecharge.com is an interactive website designed by KeepCalling, a global telecommunications company registered in 2002 in USA. From the get-go, MobileRecharge.com focused on creating an easy to use website and an easy to order service, succeeding to grow very fast. Presently, KeepCalling, the company behind MobileRecharge.com, provides its services to hundreds of thousands of consumers and businesses, with a focus on customer satisfaction. In 2014, Inc. 5000 listed KeepCalling as the 18th fastest growing company in the telecommunications industry in USA.
MobileRecharge.com goes on facilitating the connection between families and friends living far away, through modern telecommunication solutions.