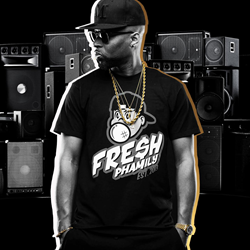 "DrumSquad Weekend is dedicated to my interests in music and fashion, making Austin during SXSW the perfect location. The music, style and overall energy in the city during this time of year is unmatched" ~Drumma Boy
Los Angeles, CA (PRWEB) March 05, 2015
Just days after speaking with law students at Harvard University, accomplished music producer Drumma Boy announces details for his inaugural DrumSquad Weekend just in time for SXSW 2015. Beginning Friday, March 20th the multi-platinum producer, his DrumSquad DJs and the many brands he currently represents will be in Austin for an eventful weekend that includes parties, wine tastings with Moreno BHLV, a celebrity basketball game, in-store appearances with his Fresh Phamily/Publik Trust clothing brand and of course artist showcases.
Between adding to his growing discography, and earning his latest gold single for August Alsina's "No Love," Drumma Boy partnered with brands including Moreno BHLV, Publik Trust, MP3Waxx, Jade Umbrella and ArtistAudtions.com to create an interactive weekend for SXSW attendees. The weekend will begin and end with music showcases on Sixth Street hosted by Drumma Boy and feature performances by notable hip hop acts including CMG recording artists Snootie Wild, Zedzilla and Wave Chapelle, Young Dolph, G-Unit Records artist Young Buck, Sy Ari Da Kid, Maino, Hotboy Turk, DJ Babychino, International DJ Unknown and the Lel Brothas. In between, fans of the producer can catch him in an array of settings including a celebrity 3on3 basketball tournament, an in-store event for Moreno BHLV with Spec's Liquor Store, an in-store event at Collective Status with his growing Fresh Phamily clothing line and a wine tasting for Moreno BHLV.
To view the complete schedule for DrumSquad Weekend, visit http://www.drum-squad.com/sxsw2015.
#StayConnected @DrummaBoyFRESH @FRESHphamily.