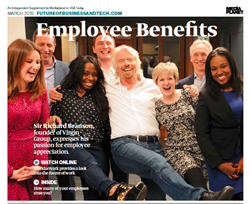 New York, NY (PRWEB) March 06, 2015
In honor of National Employee Appreciation Day, Mediaplanet announces the launch of its first annual cross-platform edition of "Employee Benefits," highlighting the importance for employers to offer quality benefits programs, as well as improve education and communication about benefits offerings, with their employees. Calling for an increased emphasis on employee engagement and wellbeing, a multitude of key opinion leaders have come together to help create a happier, more productive workforce, in turn cultivating organizational success nationwide.
The print component of "Employee Benefits" is being distributed as a full-color special section within the March 6th edition of USA Today in the Boston, Chicago, Dallas, DC/Baltimore, Los Angeles, Minneapolis, Nashville, New York distribution markets with a circulation of approximately 450,000 copies and an estimated readership of 1.3 million. Hard copies will also be distributed at several industry conferences and events throughout the year, extending the campaign's reach to thousands of professionals in the Human Resources, Benefits and Health industries. The digital component is being distributed nationally through a vast social media strategy and across a network of top news sites and partner outlets. To explore the digital version of the campaign, click here.
Sir Richard Branson, world-renowned advocate for employee wellbeing and founder of Virgin Group, will be headlining the campaign and adorning the cover of the print publication. In an exclusive interview with Mediaplanet, Branson expresses his appreciation for employees everywhere, noting his strong support for corporate health and wellness initiatives. He shared, "If a business is good, does good, and makes others feel good, then it creates its own legacy." Branson also voices his support workplace flexibility and work-life balance, revealing intimate details of how he manages to maintain balance between his own work and personal life.
This campaign was made possible with the support of WorldatWork, National Business Group on Health (NBGH), Health Enhancement Research Organization (HERO), Families and Work Institute (FWI), American Heart Association (AHA), American Psychological Association (APA) and many more.
About Mediaplanet
Mediaplanet specializes in the creation of content marketing campaigns released through multimedia platforms. We provide our readers with insightful and educational editorial in the fields of their interest, designed to motivate them to take action. Our unique ability to pair the right leaders, with the right readers, through the right platforms, has made Mediaplanet into a global powerhouse in content marketing. We continue to explore and expand our network of partners and clients through the shared interest of providing our readers the best experience possible.
Press Contacts:
Jeremy Amigo
Jeremy.amigo(at)mediaplanet(dot)com
(646) 922-1408