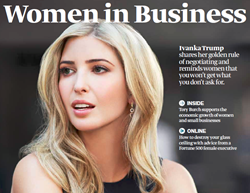 (PRWEB) March 06, 2015
Mediaplanet today announces distribution of its second cross-platform edition of "Women in Business," a campaign that highlights the importance of supporting our nation's businesswomen by continuously investing in the current and next generation. This campaign seeks to show women across the country that true empowerment happens when women light the way for other women, for the sake of the economy, the country and the world.
Ivanka Trump graces the cover of the print publication, showcasing not only her success as an entrepreneur but emphasizing her support for women in leadership roles. In a sit-down interview with Mediaplanet, she sounded off on gender inequality. "I don't think people were as prepared when they met with me as they would have been if they were meeting with my father," she shared. In an exclusive essay, UN Women's executive director Phumzile Mlambo-Ngcuka stresses the need to support women globally, highlighting the importance of International Women's Day, occurring this Sunday, March 8th, 2015.
The print component of "Women in Business" is distributed within the weekend edition of USA Today in New York, San Francisco, Denver, Chicago, Boston, Dallas, DC and Philadelphia, with a circulation of approximately 450,000 copies and an estimated readership of 1.3 million. The digital component is distributed nationally through a vast social media strategy and across a network of top news sites and partner outlets. To explore the digital version of the campaign, click here.
This campaign was made possible with the support of American University, Tory Burch, Canon, Cardinal Health, Barbara Corcoran, Half the Sky Leadership, Healthcare Businesswomen's Association, Its Time Network, KPMG, Leading Women, MGM Resorts International, NAFE, NAWBO, Procter & Gamble, Quinnipiac University's Center for Women in Business, Ivanka Trump, Un Women, Women for Women
About Mediaplanet
Mediaplanet is the leading independent publisher of content-marketing campaigns covering a variety of topics and industries. We turn consumer interest into action by providing readers with motivational editorial, pairing it with relevant advertisers, and distributing it within top newspapers and online platforms around the world.