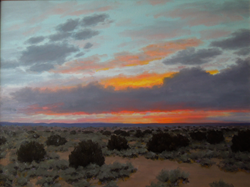 This is rare opportunity to see a vast body of Stephen's work and his vibrant sunsets.
Durango, CO (PRWEB) March 10, 2015
Sorrel Sky Gallery showcases one inspiring artist – Stephen Day for two shows in April. Day's work will be showcased in the Durango Gallery on Thursday, April 2 from 5 – 7:00 p.m. during First Thursday ArtWalk and in the Santa Fe Gallery on Friday, April 3 from 5 – 7:30 p.m. during First Friday Art Walk. The show will remain up through the end of April.
Stephen Day is a full-time artist in New Mexico. Primarily painting in oil, his subjects are from life but the landscape is his first love. "I paint almost exclusively from life trying to capture the feeling and the mood of the subject before me. This work philosophy forces me to paint quickly to get a spontaneous and fresh response, because everything around us (including ourselves) is in a constant state of change.
Stephen studied painting at the Art Students League of Denver with Bruce Cody and Mark Daily. He has taken workshops with David Leffel, John Encinias, and Clyde Apsevig and studied with Richard Schmid at the Loveland Academy of Fine Art. Stephen is known for the big skies in his paintings and appreciates the embers of light that send a certain glow to these partly cloudy scenes. He captures a specific moment in time and enjoys portraying how this time of day is reflected on the landscape below.
Shanan Campbell Wells, gallery owner says, "This is a rare opportunity to see a vast body of Stephen's work and his vibrant sunsets."
Sorrel Sky Gallery's fresh approach to Western art presents a select collection of contemporary and traditional fine art and jewelry for the discerning collector. Sorrel Sky Gallery was founded in Durango, CO in 2002 and opened its Santa Fe, NM location in 2014. It represents over 60 painters, sculptors and jewelers including bronze artist Star Liana York, painter Billy Schenck, and former U.S. Senator Ben Nighthorse, among others.