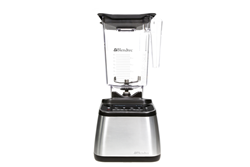 Chicago, IL (PRWEB) March 06, 2015
The Blendtec Designer 725, the world's smartest residential blender and the first operated entirely by touchscreen, has been selected for inclusion in the New Product Showcase at the 2015 International Home + Housewares Show opening today in Chicago and running through March 10. The Designer 725 advances Blendtec's "blender with a brain" abilities with industry-first features that offer unprecedented control over the blending process while also eliminating knobs and dials that can break, collect bacteria and resist cleaning.
For the first time in any blender, the Designer 725 includes:

A 100-speed capacitive touch slider that allows users to adjust speed with the swipe of a finger;
A multi-speed pulse for adding power at any speed;
An 'Add 10' feature that adds 10-second blend intervals with a tap to fine-tune consistency;
Blending tips shown on the full-text digital display to help users get more out of each setting.
Rewards for reaching specific usage thresholds; and
Built-in troubleshooting that senses and prescribes solutions for problems such as loading errors or air pockets.
Other features include six pre-programmed cycles enabling users to whip up perfect smoothies, salsas, soup, ice cream and whole juice with one touch (the sixth cycle cleans and scrubs); a patented five-sided blending jar that makes smoothies in as little as 14 seconds; a patented blunt safety blade that is 80% thicker and 10 times stronger than competitors so it won't break or cut fingers; and a 1725 watt motor – the most powerful in residential blending – that reduces blending time and increases safety by handling hard foods like ice and frozen fruit without risk of blade breakage.
An updated, Bluetooth-enabled version now under development will be a central component of the BlendtecConnect Food Prep System, an industry-first platform that will dramatically advance the concept of the connected kitchen.
In addition to its presence in the IHA New Product Showcase, Blendtec is exhibiting and demonstrating a wide array of products at IHA Booth #L12731.
About Blendtec
Blendtec designs and manufactures the world's safest and most powerful high-speed commercial and residential blenders. All Blendtec blenders are engineered and assembled in the USA at the company's Orem, Utah facility. For more information, visit http://www.blendtec.com.