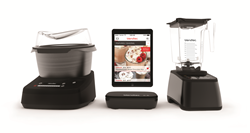 Chicago, IL (PRWEB) March 07, 2015
Blendtec, developer of the world's most advanced blenders, again showed its commitment to pushing kitchen technology boundaries today by announcing plans to release an industry-first Bluetooth-connected food preparation system that will dramatically advance the concept of the connected kitchen. Blendtec Connect will go beyond today's rudimentary technology-enabled kitchen gadgets by linking a free recipe app with multiple countertop appliances to simplify and speed up home recipe assembly.
The system will incorporate a Blendtec blender, mixer, food scale and recipe app connected by Bluetooth technology to simplify recipe customization, assembly and cleanup as well as produce goof-proof results for even the most challenging dishes. The connected components will:

Allow hundreds of recipes to be assembled in a single blender jar or mixing bowl;
Automatically sense ingredient quantities without the need for measuring spoons or cups;
Eliminate the need for measuring tools, extra prep bowls and other clutter and dirty dishes;
Customize recipes based on servings needed or ingredients on hand; and
Send recipe-specific instructions such as custom mix or blend cycles to each appliance.
The app itself will offer step-by-step instructions for assembling items ranging from breads and pastries to soups, salsas, dressings and entrees, all designed to use the power of the appliances to quickly create professional-quality fare.
"Most of the connected kitchen products released to date have been devices like smart coffee machines and intelligent refrigerators that change settings in response to SMS messages. These products are connected to the Internet but they don't have any impact on consumer productivity or cooking skills," said Blendtec founder Tom Dickson. "Our vision with Blendtec Connect is to combine online connectivity with our advanced appliance engineering to make cooking simpler, faster and smarter than ever before."
The Blendtec Connect system is the latest in a series of Blendtec innovations that have included the first blenders with pre-programmed blend cycles, the first 100%-touchscreen-operated blenders, and patented blender blades and jars providing safer, faster and easier-to-clean machines.
Blendtec is exhibiting at Booth #L12731 at the International Home + Housewares Show running March 7-10 in Chicago.
About Blendtec
Blendtec designs and manufactures the world's safest and most powerful high-speed commercial and residential blenders. All Blendtec blenders are engineered and assembled in the USA at the company's Orem, Utah facility. For more information, visit http://www.blendtec.com.