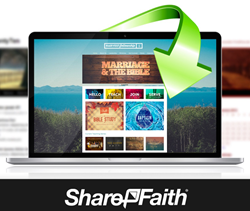 Thousands of churches desire a new, cutting edge, professional website, but do not have the time or budget to migrate to a new provider. With the free migration service, a church can make the transition easily with Sharefaith doing all the work.
Medford, OR (PRWEB) March 10, 2015
In a groundbreaking move, Sharefaith begins providing free church website migration to all users on their Complete Membership, allowing a church to transfer their old church website, platform, domain, and content to a new Sharefaith website.
Thousands of churches desire a new, cutting edge, professional website, but do not have the time or budget to migrate to a new provider. Website migration can be a complex and time-consuming task. For churches with limited resources and personnel, the job can be especially daunting. With the migration service at no additional cost, the latest addition to Sharefaith's many website features, a church can make the transition easily and smoothly with Sharefaith doing all the work.
Switching to a new website is easier said than done, especially for a church who has spent years creating content and building traffic. Along with the obvious change in the website design, there are under-the-hood considerations such as switching website providers, redirecting a domain, mapping old URLs to their new addresses, and adjusting to a new CMS (content management system).
Sharefaith's website migration service makes the entire process simple. Churches simply join Sharefaith's Complete Yearly Membership, choose their preferred website template, and complete an easy migration form. Sharefaith will then begin the migration work and notify the church when it's ready. Within days, the church will not only have a brand new website with all their content, but they will have access to Sharefaith's complete award-winning product offering ranging from a church app, 52 Week Sunday School curriculum, 60,000+ graphics and worship videos, as well as a full-fledged worship presentation software. All their church resources in one place!
Church websites are legendary for their lack of aesthetics and outdated features. With their passion for helping churches, Sharefaith began developing beautiful and functional church websites in 2011. Sharefaith was overwhelmed by the response of churches around the world. Now, with more than 7,000 churches using their website service, Sharefaith websites have grown into one of the most advanced, powerful, and budget-friendly options on the planet.
In spite of its ease and cost-effectiveness, Sharefaith was aware that many churches were still stuck in contracts with broken and outdated websites. While these churches wanted to retain their domain name and some of their content, they also needed the low cost, ease of use, high-powered functionality, and award-winning aesthetics a Sharefaith website provides.
"That was the whole impetus for the website migration," said Hein van Wyk, Sharefaith's President and CEO. "We saw all these churches who loved our all-in-one resource solutions and were already using them. They wanted a new website, but they simply did not have the time, staffing or know-how to effectively transition their old website to a new provider." Van Wyk and other team members at Sharefaith recognized the problem and implemented the migration solution.
Developing and implementing a website migration takes extensive development work, but Sharefaith has alleviated churches of this burden, and now provides the service at no additional cost.
Sharefaith has been providing church resources for more than a decade, serving nearly 100,000 churches, globally. In addition to websites, Sharefaith is the leading Christian provider of sermon and worship graphics. Their library of 60k+ resources has led them to consistent recognition in places like Worship Leader Magazine. Sharefaith is also the producer of a 52-lesson Sunday School curriculum that puts a gospel-rooted teaching plan in the hands of church staff and volunteers.
For churches who are ready to have a beautiful new website with the most advanced features available, Sharefaith now stands as a clear solution. With free migration, an easy-to-use content management system, church app, online giving, video sermons, and an endless supply of beautiful graphics, Sharefaith makes it easy and affordable for churches to improve their effectiveness in proclaiming the Gospel, through technology, with excellence. Learn more about Sharefaith at their website.