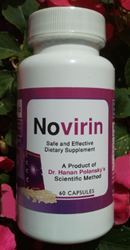 Herpes encephalitis begins with confusion, fever, and seizures and can be fatal. (2)
Rochester, NY (PRWEB) March 06, 2015
"Infected with the herpes simplex virus (HSV-1 or HSV-2)? The Center for the Biology of Chronic Disease (CBCD), which tested the formula of Novirin in two post-marketing clinical studies, recommends taking this natural antiviral supplement." – Greg Bennett, CBCD
In a report, Dr. Cable and colleagues discussed the case of a man who was admitted for evaluation of seizures in the context of progressive and significant behavioral change. His medical history was only notable for previous outbreaks of genital herpes. (1) By itself, the CBCD suggests that this is not noteworthy since HSV is known to cause encephalitis (an acute inflammation of the brain). As the Merck Manual notes, "HSV can infect the brain. This infection (called herpes encephalitis) begins with confusion, fever, and seizures and can be fatal." (See the Merck Manual, from December 2014) (2)
However, as the case report noted, due to encephalitis caused by the genital herpes virus, the patient had seizures, which led to his hospitalization. The CBCD believes it is worth mentioning the fact that antiviral drug therapy did not reduce symptoms, and emergency procedures had to be performed to save the patient's life. "Despite initiation of antimicrobial and antiviral therapy, the patient's level of alertness continued to decline, ultimately leading to intubation for airway protection." (1) "Both herpes simplex type 1 (HSV-1) and type 2 (HSV-2) can cause herpes simplex encephalitis." (See Patient.co.uk, last reviewed on May 28, 2014) (2) Importantly, the CDC notes concerning herpes that "the infection can stay in the body for the rest of your life." (See the CDC, last reviewed January 23, 2014) (3) In light of the above information, the CBCD recommends taking Novirin. The formula of this natural antiviral product was shown to reduce herpes symptoms in two separate post-marketing clinical studies that followed FDA guidelines.
Click to learn more about herpes symptoms.
The formula of Novirin was tested by Hanan Polansky and Edan Itzkovitz from the CBCD in two clinical studies that followed FDA guidelines. The studies showed that the Novirin formula is effective against the herpes family of viruses, including HSV-1 and HSV-2. The clinical studies were published in the peer reviewed, medical journal Pharmacology & Pharmacy, the first, in a special edition on Advances in Antiviral Drugs. Study authors wrote that, "individuals infected with the HSV … reported a safe decrease in their symptoms following treatment with (the formula of Novirin)." (4) The study authors also wrote that, "We observed a statistically significant decrease in the severity, duration, and frequency of symptoms." (4)
Novirin can be ordered online on the product website, here: http://www.novirin.com.
Novirin is a natural antiviral dietary supplement. Its formula contains five natural ingredients: Selenium, Camellia Sinesis Extract, Quercetin, Cinnamomum Extract, and Licorice Extract. The first ingredient is a trace element, and the other four are plant extracts. Each ingredient and its dose was chosen through a scientific approach. Scientists at polyDNA, the company that invented and patented the formula, scanned thousands of scientific and medical papers published in various medical and scientific journals, and identified the safest and most effective natural ingredients against latent viruses. To date, Novirin is the only natural antiviral products on the market with published clinical studies that support its claims.
What symptoms are associated with herpes caused encephalitis?
The answer is that when the herpes virus attacks the brain, a person may experience a prodrome (early symptoms) of "malaise, fever, headache, nausea and vomiting. This is followed by acute or subacute onset of: altered consciousness, focal and generalised seizures, features of raised intracranial pressure, including papilloedema. Focal neurological signs, including hemiparesis and cranial nerve lesions. Psychiatric symptoms, behavioural abnormalities, confusion and delirium. Hallucinations of taste and smell, anosmia, amnesia, dysphasia and visual field loss." (2)
Are there antiviral treatments against the herpes virus?
"Two types of antiviral treatments against HSV are available: topical and oral. The treatments include penciclovir, acyclovir, famciclovir, and valaciclovir. However, their effectiveness is limited. For instance, a meta-analysis of five placebo-controlled and two dose comparison studies evaluated the effect of aciclovir, famciclovir or valaciclovir on symptoms. The meta-analysis showed that oral antiviral therapy decreases the duration and the associated pain of an outbreak by merely one day." (3). There is also the natural supplement Novirin, which has a formula that was designed to help the immune system target the herpes virus when it is in a latent form.
"We recommend that individuals concerned about complications, such as encephalitis associated with genital herpes infection, take Novirin." - Greg Bennett, CBCD
Interested individuals can view the studies published on these natural antiviral products here: http://cbcd.net/Gene-Eden-VIR-Clinical-Study.php and http://cbcd.net/Gene-Eden-VIR-Decreases-Fatigue-Clinical-Study.php.
All orders of these products are completely confidential, and no information is shared or sold to any third party. Privacy is assured.
References:
(1) Cable CA, Freeman WD, Rubin MN, Khoor A, Karnatovskaia LV. "A 51-year-old man with seizures and progressive behavioral changes." Chest. 2015 Mar 1;147(3):e86-9.
http://www.ncbi.nlm.nih.gov/pubmed/25732477
(2) The Merck Manual - Home Health Handbook - Herpes Simplex Virus Infections. Last Reviewed December, 2014.
http://www.merckmanuals.com/home/infections/viral_infections/herpes_simplex_virus_infections.html
(3) CDC.gov - Genital Herpes - Genital Herpes - CDC Fact Sheet. Last reviewed on January 23, 2014
http://www.cdc.gov/std/herpes/stdfact-herpes.htm
(4) Polansky, H. Itzkovitz, E. Gene-Eden-VIR Is Antiviral: Results of a Post Marketing Clinical Study. Published in September 2013.
http://www.scirp.org/journal/PaperInformation.aspx?PaperID=36101