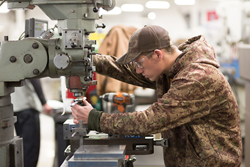 "We have to get creative in how we reach out to them. We need to spark their interest in manufacturing."
Smyrna, TN (PRWEB) March 06, 2015
Over the next ten years, the United States will need to fill 3.5 million manufacturing jobs, according to new research from Deloitte and The Manufacturing Institute, but 2 million of those jobs are not likely to be filled due to lack of skilled employees. As many manufacturers contemplate how to attract young, fresh talent, Turner Machine, a custom machine builder and full-service machine shop, is taking a unique approach to overcoming the skills gap within the industry.
Unlike many manufacturers who eliminated training programs during the recession for financial reasons, Turner Machine still provides traditional apprenticeships, which presents an attractive opportunity to young people without the funds to pay for school. And, rather than wait for ambitious Millennials to find the apprenticeship program, the company not only reaches out to high schools in Smyrna and Murfreesboro, but also uses social media as a recruitment tool.
"We realize we cannot use traditional recruitment methods because it does not resonate with Millennials," said Turner. "We have to get creative in how we reach out to them. We need to spark their interest in manufacturing. The average employee of a U.S. manufacturer is 56-years-old. When those Baby Boomers retire – and the older ones already are – we are going to need new talent to step up and be the future of manufacturing."
Introducing students to the manufacturing process is another method that has proven successful for Turner. Last year, a group of students from a local high school toured the plant, used the machines to create personalized key chains and learned which sector of manufacturing they would best fit based on their personality and birth order. From that tour only, Turner Machine recruited two employees.
Turner believes the lack of interest in manufacturing is partly because students have lost their connection to building things. Most high schools across the country have eliminated "shop class" or technical programs in favor of more college-friendly programs. Without the early exposure to those programs, students do not have the opportunity to discover if they like building things or would be interested in manufacturing. That's why Turner uses his recruitment methods to help close the gap left by the schools.
Turner Machine Company, Inc. is a full-service machine shop that specializes in building custom machines. The company, founded by Jeff Turner, will celebrate its 20th anniversary in November. Currently, Turner Machine employs around 50 people. It is located 15 miles southeast of Nashville, Tenn., in Smyrna. For more information about Turner Machine Company visit http://www.turnermc.com/ .