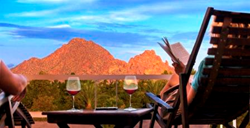 The views of iconic Camelback Mountain, the ability to walk to dining and shopping, and the open and casual floor plans are what's driving the interest in this community
(PRWEB) March 06, 2015
Scottsdale, Arizona is a winter visitor's dream, with no snow, lots of sunshine, plenty of outdoor activities like hiking and golf, plus abundant shopping and dining choices. The city is also known as an artists' mecca with dozens of galleries, is host to a number of high-end collector car auctions, and home to eclectic restaurants with some of the nation's most celebrated chefs at the helm.
Scottsdale has it all, including new, exciting home opportunities for those who want to enjoy this Sonoran desert city for more than a week at a time. A number of new condominium communities have come to market this winter, offering a lock and leave lifestyle that is especially desirable for those whose primary homes are in other states. "Buyers are coming off of the sideline and making major investments," said Mike Jesberger, developer of a new Scottsdale, Arizona luxury condominium community called The Enclave at Borgata.
Being built in the heart of Scottsdale on a former retail center site, The Enclave presents a rare opportunity to live in a new condominium home in an established neighborhood. Location is the key. "The views of iconic Camelback Mountain, the ability to walk to dining and shopping, and the open and casual floor plans are what's driving the interest in this community," said Jesberger. The Enclave at Borgata is being developed near Scottsdale Road and Lincoln Drive – adjacent to Paradise Valley, an area known for its affluence and multi-million dollar homes. Condominium homes at The Enclave at Borgata start in the $700,000's.
Buyer interest in the Scottsdale housing market is very strong this winter season. "There is renewed consumer confidence, and good home designs with views and amenities, are very appealing – especially to age 40-plus buyers who are seeking a home and lifestyle that connects them to their neighbors and community," said Susan Williams of Williams Waldron, a Phoenix-based strategic marketing firm.
The Enclave at Borgata amenities, for example, include a gated entry, lush landscaping, fitness facility, resort-style pool, demonstration kitchen, outdoor kitchen, resident clubroom, lounging/conversation areas inside and out to connect with neighbors, walking path, and dog park. "Based on the consumer research we've done, community amenities that foster relationships are very desirable. People are looking for connections that root them, even in a place that may be a second home for them. They want to know their neighbors and feel a sense of belonging," noted Williams.
The time appears to be right for many buyers in the Phoenix metropolitan market, in which Scottsdale in located. According to a report recently released from the Arizona State University W.P. Carey School of Business, new figures show a sudden uptick in buyer demand, with a significant boost in homes under contract since late January. Sales of homes in the $600,000 to $1.5 million range are up 12 percent from a year ago, and sales of homes with smaller price tags are up as much as 38 percent over one year ago.
For more information on The Enclave at Borgata visit the website at http://www.EnclaveAtBorgata.com or at Facebook.com/EnclaveAtBorgata.