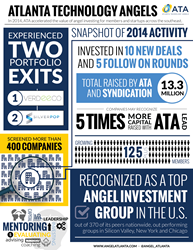 Atlanta, Georgia (PRWEB) March 06, 2015
Atlanta Technology Angels (ATA), one of the nation's top angel investing networks, today announced it experienced one of its best years in 2014, achieving a total of $13.3 million in funding and formal syndication, and growing 66 percent over last year. This success was a result of ten new deal investments and five follow-on funding rounds, spurring the organization's growth in the Southeastern United States. The group also witnessed the exit of two of its portfolio investment companies—IBM Silverpop, a digital marketing software company, and Verdeeco, a smart grid data analytics provider.
With membership consisting of over 125 members, ATA screened over 400 companies in 2014 that applied for funding. In addition to its portfolio company growth, the group also expanded its presence in Georgia to include a Gwinnett Angels chapter, created in response to the growing number of startups and investors located outside of the city's perimeter.
"We're extremely pleased with our performance in 2014, a year in which we continued to seek out and fund remarkable companies and witnessed the successful exit of two companies we mentored and funded in their early stages," said Bernice Dixon, President and Chairman of the ATA. "It was a year that enabled us to expand our footprint in the Southeast—as well as in the national angel investment community as a whole—positioning us for strong growth in the years ahead."
CB Insights, an information services firm that most commonly publishes forward-looking intelligence on the venture capital landscape, recognized ATA in 2014 as one of the top angel investment groups in the United States out of 370 of its peers nationwide, outperforming groups in Silicon Valley, New York and Chicago. This is the highest national ranking any angel investment group in the Southeast has achieved. ATA was further honored for its follow-on rate, ranking third in the country.
ATA members source, perform due diligence, invest and provide post-deal stewardship for early-stage technology companies, while also providing education programs, mentorship, industry expertise and an analyst program. Unlike other angel investment firms, ATA does not charge to present. To learn more about ATA, please visit http://www.angelatlanta.com.
About Atlanta Technology Angels
Atlanta Technology Angels (ATA) is one of the nation's top angel investing networks, comprised of 125 members, VC affiliates and sponsors in Georgia. ATA is a member-led investment network that sources, performs due diligence, invests and provides post deal stewardship for early stage technology companies in Georgia and the Southeast. Providing more than just money, ATA provides education, coaching, mentoring, connections, leadership and support to early-stage entrepreneurs with viable ideas and technology. ATA ranks in the top 4 networks in the United States in portfolio size, members and opportunity flow, and invests in technology-based companies with large market potential. To learn more, please visit http://www.angelatlanta.com.
# # #