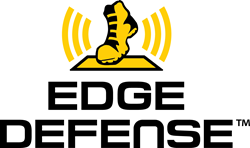 We use technology to make people, buildings, and businesses safer.
San Antonio, Texas (PRWEB) March 09, 2015
Award-winning firm Roof Monitor™ is expanding the scope of the company's operations. The targeted growth precipitates two immediate changes: 1) Roof Monitor has unveiled Edge Defense™, a groundbreaking new product designed to help prevent falls off of commercial roofs; and 2) the revolutionary technology-based system used to monitor live loads of snow and water on commercial low-sloped roofs that has been called Roof Monitor has been renamed Roof Sensor™.
Roof Monitor will remain the name of the umbrella operation that offers both Edge Defense and Roof Sensor.
The U.S. Department of Labor's Occupational Safety and Health Administration (OSHA) reports that falls remain the number one cause of death for construction workers. Edge Defense is a vital boon to all industries whose work takes them to the roof -- construction, heating and cooling, and many more.
A patent-pending safety mat system made exclusively for low slope commercial roofs, Edge Defense is installed along the perimeter of the roof. When an individual steps onto the mat, an alarm sounds, ensuring better awareness of the roof's ledge.
The UV-coated Edge Defense mats contain electrodes that make up a hermetically sealed sensor system designed to prevent falls and detect trespassing.
Each Edge Defense mat features:

Advanced UV coating to protect from sun damage
Non-steel electrodes designed to withstand rust and dents that are also non-corrosive, non-magnetic, flexible, and anti-static
Customized points of roof entry and exit
The benefits of utilizing Roof Sensor's on-call alert center are twofold: 1) more eyes and ears add up to better protection of the men and women whose jobs require time on the roof; and 2) stronger, 24-hour surveillance of the roof could alert building owners to any rooftop trespasses by unauthorized personnel, in addition to ensuring employee safety.
"At Roof Monitor, we use technology to make people, buildings, and businesses safer," says Brad Beldon, Roof Monitor President & CEO. "Edge Defense is an ingenious solution to the inherent danger of working on commercial roofs. It's the perfect partner for our signature Roof Sensor product. Together or individually, the two systems will help us protect lives and investments."
Roof Monitor products are installed by the trusted members of National Roofing Partners.
About Roof Monitor™
Based in San Antonio, Texas, Roof Monitor specializes in safeguarding the roofs of commercial structures and the lives, investments, and businesses that rely on them through advanced technology. The firm offers two state-of-the-art products: Roof Sensor™, a technology-based system designed to monitor live loads of water and snow on the roofs of low-sloped buildings and to inform businesses of potential risk; and Edge Defense™, an intricate safety mat system with internal sensors designed to alert individuals in real-time when the perimeter of a roof is breached. With numerous patents pending in 50 countries, Roof Monitor is registered to conduct business in all 50 states. http://www.roofmonitor.com.