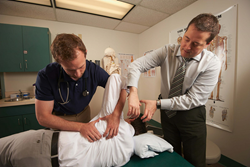 Graduate Medical Education funding reform is essential to fuel our growth and enhance our regional response to our country's physician shortage crisis.
Williamsport, PA (PRWEB) March 06, 2015
As the Association of American Medical Colleges' warning of a national shortfall of 90,000 doctors by 2025 is updated this week and debated in the media, Susquehanna Health (SH) is proactively preparing by analyzing demographics and pursuing viable solutions for progressive development, recruitment and patient access.
Several factors including the increasing number of retiring doctors, increasing aging population, increasing number of insured under the Affordable Care Act and an uneven distribution of new doctors have raised national concern over a future shortage of doctors in the US. While some healthcare experts agree the problem is national, others contend the solution is regional.
As a health system comprised of four hospitals in Williamsport, Muncy and Wellsboro, Pennsylvania and a multi-specialty group practice employing 180 physicians, SH gauges its medical staff and community needs through routine market analysis. According to Nicole Nardi, director of Medical Staff Recruitment and Relations, SH invests in a market profile to create a medical staff development plan every two years. This analysis assesses patient needs and physician needs, as well as the demographic of physicians and the region, and guides the plan of action for physician recruitment in a way that supports patient access and care.
"We've been successful in our recruitment efforts," Nardi said. Some of the most attractive benefits related to physician recruitment are lifestyle-related, according to Nardi. "We are experiencing more often that some of the physicians we hire are married to physicians," she explained. "Often, these physician couples have families and are seeking a more flexible schedule for the primary caregiver. Susquehanna Health is agile enough to be able to customize schedules through job-sharing to help accommodate work/life balance while meeting patient needs."
In addition, financial incentives for prospective physicians are often more attractive when compared with larger, urban systems because the market is less saturated, according to Nardi. In general, salaries for primary care physicians are on the rise. SH's work/life balance and financial incentives are designed to support physician retention. In 2014, SH hired 25 physicians and 25 advance practice professionals (APP) while only 10 physicians pursued retirement or relocation.
One of the most progressive of SH's steps for meeting provider and patient needs is the recruitment of APPs, which include physicians assistants (PA-C) and nurse practitioners (CRNP). In the past five years, Susquehanna Health Medical Group reports a 400 percent increase in the number of APPs working throughout the health system. "These healthcare providers are fully utilized in patient care," said Nardi. "APPs enable us to see patients more quickly while coordinating the patient's plan of care with the physician and determining the best course of treatment."
Another of SH's resources for managing a physician crisis is the Williamsport Family Medicine Residency (WFMR) program. For the past 40 years, the residency has strengthened the network of primary care physicians through its commitment to graduate medical education and the training of quality physicians who often choose to remain in the area.
WFMR Director Dr. Bradley Miller believes SH's capital building program is tangible evidence of a strategy to circumvent a physician shortage and a commitment to a healthy healthcare environment. "By constructing the Susquehanna Tower and Health Innovation Center, Susquehanna Health has demonstrated a commitment to providing an environment that supports the use of modern healthcare technologies and systems," he said. "The residency program's placement in the new Health Innovation Center supports its commitment to providing well-rounded medical education that evolves to meet the needs of its time."
In addition, SH's partnership with Federally Qualified Health Centers (FQHC) enables resident physicians to gain healthcare experience in rural, underserved communities. "Resident response to these elective rotations has been overwhelmingly positive and has confirmed their desires to practice in rural locations," said Miller. While additional partnerships are pursued, a federal funding cap deters expansion toward meeting the need for training physicians to practice in rural locations. "Graduate Medical Education funding reform is essential to fuel our growth and enhance our regional response to our country's physician shortage crisis," Miller said.
About Susquehanna Health
Susquehanna Health is a four-hospital integrated health system including Divine Providence Hospital, Muncy Valley Hospital, Soldiers + Sailors Memorial Hospital and Williamsport Regional Medical Center located in northcentral Pennsylvania. Serving patients from an 11-county region, Susquehanna Health is a healthcare leader and has been recognized at the national and state levels for quality of care. Susquehanna Health offers a wide array of services that include cancer care, heart and vascular care/heart surgery, neurosciences including neurosurgery, orthopedics, urology, OB/GYN, gastrointestinal services, behavioral health, physical rehabilitation, home care, long term care, assisted living and paramedic/ambulance services.