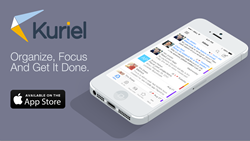 Montreal, QC (PRWEB) April 02, 2015
Kuriel has been generating interest with user groups since November, and their email productivity app is now available. The app is designed for business professionals who receive over 100 emails a day and works on both Microsoft Exchange and Outlook accounts. The app is available for free at the Apple App Store. At the moment it only supports email accounts hosted on Microsoft Exchange & Office 365 (business), but an Android version is on the way.
The Kuriel App is for users who use Outlook and want the same advanced features on their iPhone. It helps users save time and reclaim control of their inbox by organizing emails for improved productivity. The Kuriel team has been building and developing their iPhone application since January 2014 and have been providing selective access to user groups since November 2014.
According to The Radicati Group, business professionals send and receive the most emails.

The majority of email traffic comes from business email, which accounts for over 100 billion emails sent and received per day. This trend is expected to rise to over 132 billion business emails sent and received per day by the end of 2017.
Email is the second most time-consuming activity at work as it takes up 28% of workers' time during work hours. It takes around 65 seconds to recover from email interruptions, which adds up to approximately two hours of lost productivity a day.
Emails are now checked on mobile devices and tablets more than ever. Over 66% of total emails are accessed on smartphones and tablets. Business professionals check their emails on the weekends (78.9%), during a holiday (63.6%) and after 11pm (41.9%).
Because busy professionals are now reachable anytime and anywhere, they are the greatest sufferers of email overload. This is why when developing the app, the Kruiel team interviewed and watched hundreds of business email users, and used their voice as the foundation for the new app's client. "The app was designed for business professionals who get way too much email (100+ per day) and who want to easily get through their inbox on their iPhone so that when they get back to their desks they can get some real work done. Kuriel allows them to organize, quickly scan and automatically identify their most important emails. It also allows busy professionals to add emails to their Outlook task list so they can get to email at a later time. It removes annoying clutter and uses built-in filters to access key information faster," said Kuriel founder and CEO, Mike Petsalis, himself an email overload sufferer.
To learn more about Kuriel visit http://www.kuriel.co.
About Kuriel
Kuriel is on a mission to improve the lives of business professionals through mobile email. We help them zip through stuff so that they can get back to more important things. The company is based in Montreal, Canada.