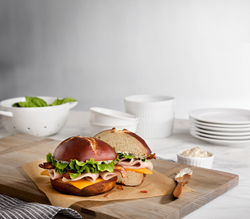 "RaceTrac's mission is to make people's lives simpler and more enjoyable, and our fresh food offering gives our guests the opportunity to enjoy great-tasting food without sacrificing quality, freshness or convenience."
Atlanta, GA (PRWEB) March 09, 2015
For guests looking for a complete meal on–the-go, RaceTrac's fresh food offering combines quality and convenience with a wide variety of great-tasting options. Delivered fresh daily, guests can enjoy the many sandwiches, wraps and salads RaceTrac offers at each of its more than 380 locations.
RaceTrac's newest offerings include a trio of tasty turkey sandwiches. The Turkey & Swiss with Tomato is the popular classic with generous layers of turkey, Swiss cheese, fresh lettuce and tomato on soft honey wheat bread. For guests looking to spice up their meal, the Southwest Turkey Ciabatta boasts a sweet and spicy flavor with chipotle mayo, pepper jack cheese and caramelized onions on a fresh-baked ciabatta bun.
For a limited time, RaceTrac is also offering its Turkey Club Pretzel, giving the classic club sandwich a new twist. With basil mayo, quality cheddar cheese and crispy bacon on a soft pretzel bun, this sandwich combines popular tastes for a more contemporary flavor profile.
These savory selections and fresh ingredients come together at the hands of Chef Bob Derian, RaceTrac's Corporate Executive Chef, who works to conceptualize fresh foods that provide guests with five-star flavors on-the-go.
"In our test kitchen, I'm always looking to develop great tasting foods made with the freshest ingredients at the best price for our guests to enjoy in-store," says Derian. "RaceTrac's mission is to make people's lives simpler and more enjoyable, and our fresh food offering gives our guests the opportunity to enjoy great-tasting food without sacrificing quality, freshness or convenience."
March 4 – April 28, guests can combine a fresh food item with a 1- to 2-ounce bag of Utz or Zapp's chips and a 20-ounce Coca-Cola bottled beverage as part of RaceTrac's Value Meal Deal for $4.99. Fresh food is waiting at your local RaceTrac – hail to the chef!
###
About RaceTrac
Headquartered in Atlanta, Georgia, RaceTrac has been serving guests since 1934 and now operates more than 370 convenience store locations in Georgia, Florida, Louisiana and Texas. In January 2012, RaceTrac introduced its new 6,000 square foot store design, featuring 24 hour Swirl World frozen yogurt, an expanded coffee bar, fresh salads and sandwiches and up to 24 fueling stations to satisfy the needs of its guests. While operating under the mission to make people's lives simpler and more enjoyable, the company has been named a top workplace by the Atlanta Journal-Constitution (2011 - 2013), the South Florida Business Journal (2012), the Orlando Business Journal (2011, 2013) and the Dallas Business Journal (2009 – 2010, 2013), as well as recognized on Forbes list of largest private companies (1998 - 2013) and Financial Times' 2013 Hot 100 Retailers. Convenience Store Petroleum named Carl Bolch Jr. "Retailer of the Year" in 2009 and Convenience Store News has honored RaceTrac on the Top 100 Convenience Stores list (2003 – 2013), Top 20 Growth Chain list (2013) and as Retail Innovator of the Year (2012). In 2014, Convenience Store Decisions named RaceTrac as its "Chain of the Year." For more information, visit RaceTrac on Facebook, Twitter, Instagram, Web and LinkedIn.