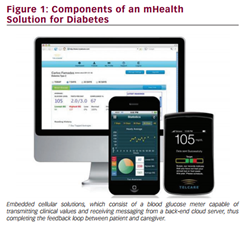 mHealth interventions for diabetes show promise in reducing HbA1c across multiple settings and achieving this clinical result is likely to result in reduction of near-term medical costs.
(PRWEB UK) 11 March 2015
In recent years, a variety of innovative solutions have been introduced that are designed to improve adherence to blood sugar testing among patients with diabetes, lower glycated Hemoglobin (HbA1c), and decrease complications associated with diabetes mellitus. The value of lowering HbA1c in preventing long-term complications of diabetes is broadly recognized. The purpose of this review is to provide an overview of the peer-reviewed literature documenting both the efficacy of mobile health (mHealth) solutions in improving adherence and lowering HbA1c, along with the impact of lowering HbA1c on nearterm costs and complications of diabetes. There are multiple variables to be considered when estimating the financial impact of an mHealth solution on preventing complications of diabetes and lowering medical costs within a healthcare organization. Those variables include, but are not limited to:
-An organization's current population, diabetes prevalence, and overall medical costs;
-An organization's current population with diabetes compliance with treatment protocols at baseline;
-An organization's current diabetes-management programs;
-The percentage of the population with diabetes willing to participate in the program; and
-The proposed treatment interventions associated with the glucose monitoring data that will be generated by the mHealth system.
However, no estimate of cost-effectiveness for a proposed model can be generated without supportable assumptions on efficacy of such interventions in lowering HbA1c and, hence, near-term costs.
mHealth Solutions for Improving Control of Diabetes
Concommitant with the introduction of the first data-capable cell phones, innovators have sought to connect physicians and patients around the measurement and control of blood glucose. Initial solutions were based around connecting cellular radio devices to traditional blood glucose meters, fashioning blood glucose meters that could attach directly to early cell phones (typically called feature-phones as distinguished from smartphones), and relying on the patient to manually enter data via a cell phone application. Other mHealth programs have relied on home telemonitoring devices or web-based solutions. The most recent approach to mHealth for Diabetes has implemented cellular data communication capability within a glucose meter.7 This has the dual advantages of not imposing extra actions or cost on the patient, beyond those already associated with fingerstick glucose monitoring on the one hand, and providing the patient with immediate caregiver feedback on the other.
To continue reading this peer-reviewed article in full for free please go to :http://www.touchendocrinology.com/articles/effectiveness-mobile-health-solutions-lowering-glycated-hemoglobin-and-resulting-economic
NOTE TO EDITORS
touchENDOCRINOLOGY (a division of Touch Medical Media) provides independent, cutting-edge, peer-reviewed content from world renowned physicians, designed to lead the debate on health and to engage, inform, and support physicians in improving patient outcomes globally.
touchENDOCRINOLOGY.com provides an international platform for peer-reviewed content from industry-leading journals alongside other carefully selected sources and aims to support physicians, clinicians and leading industry professionals in continuously developing their knowledge, effectiveness and productivity within the field of diabetes.
Our portfolio of peer-reviewed journals, European Endocrinology and US Endocrinology comprise of concise review articles which are designed to keep busy physicians up-to-date with the latest developments in their field and serve as a key reference resource for the international diabetes community.