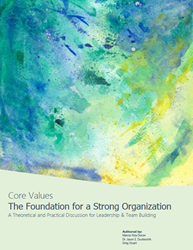 We share a passion for the importance of defining and embracing a set of core values as the cornerstone of a corporate culture.
Marlborough, MA; Westlake Village, CA; Belton, TX (PRWEB) March 10, 2015
The co-authors of "Core Values: The Foundation for a Strong Organization," today announced the release of this new white paper. It is at its heart "A Theoretical and Practical Discussion for Leadership & Team Building." The idea for the paper was conceived when Altico Advisors and Harmony Solutions participated in a discussion started by Dr. Jason E. Duckworth, Founder of Encouraging Leadership, on the CFO Network LinkedIn Group.
"We came from vastly different backgrounds and from three zones, but we shared a passion for the importance of defining and embracing a set of core values as the cornerstone of a corporate culture," says Marcia Nita Doron, Marketing Director at Altico Advisors. "Several months, dozens of conference calls, and innumerable emails later, we were fast friends and co-authors of a white paper."
The "Core Values" white paper contains select quotes from the many people who contributed to the discussion on the CFO Network on LinkedIn. Some praised the role of core values, others expressed some skepticism. Participants included finance professionals from around the globe, 17 countries across 5 continents.
"When I posted these 3 words, Defining Core Values," explains Duckworth, "I never imagined the deluge of responses that would result. My interest in this topic was inspired by having spent 34 years in the United Sates Army. My personal goal was to give substance to the question of how core values impact the role and responsibility of the CFO."
Sections within the white paper are dedicated to explaining how core values differ from a slogan, a mission statement, or corporate culture. Additional questions explored include whether core values trickle down from top executives or grow from the rank and file; what are the barriers to adoption; and what are the business benefits.
"For me, it was most important to look at the impact of core values on the potential success of a company," says Greg Stuart, a Certified Business Coach at Harmony Solutions International. Stuart continues: "I also wanted to give our readers some practical advice on how to gain a solid footing on the path toward defining, prioritizing, implementing and nurturing core values in a corporate setting."
Relying on several well-known authors of literature on this topic as well as on their own decades of experience in the business world, the authors summarize 7 key conclusions and include a bibliography and suggested readings for those who may want to dig even deeper into a topic that has gained a great deal of momentum in an age of much upheaval.
"The conversation need not end here," declare the authors. "Chime in with your thoughts and insights."
About Altico Advisors
Headquartered in Massachusetts, Altico Advisors implements and supports business, financial and customer management software solutions for midmarket enterprises, primarily throughout New England. Altico is a Microsoft Gold Partner and NetSuite Solution Provider specializing in Microsoft Dynamics and NetSuite for ERP and CRM, Adaptive Insights for budgeting and forecasting, as well as integration services and business intelligence for manufacturers, distributors, software development companies and service organizations. Altico also provides a wide variety of advisory services: outsourced financial resources, staffing, business and IT strategy alignment, software selection and business analytics. For more information, please visit us on the Web at http://www.AlticoAdvisors.com or call 508-485-5588.
About Harmony Solutions International
Harmony Solutions International coaches business owners, executives and their teams in leadership skills, strategy and getting things done faster and better. HSI clients want to reach their potential and see good as the enemy of great. Visit us on the Web at http://www.HarmonyPPS.com.
About Encouraging Leadership
Encouraging Leadership is a premier business consulting and executive coaching company specializing in partnering with business leaders to create powerful strategies that significantly impact performance, production, and profitability. The organization was founded by Dr. Jason E. Duckworth who brings more than 34 years of leadership experience as a military officer and a Doctorate in Leadership to his company. http://www.EncouragingLeadership.org