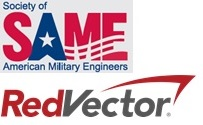 Tampa, FL (PRWEB) March 06, 2015
RedVector, the leader in eLearning and workforce training solutions for the architecture, engineering, construction, industrial and facility management industries, has partnered with the Society of American Military Engineers (SAME) to offer best-in-class education to meet the needs of its members across the country. SAME professionals include architects and engineers, construction and project managers, designers, contractors and contracting professionals working with the Department of Defense (DOD), other federal agencies, and industry.
"What makes this partnership so unique is that through RedVector, SAME can now offer our members online courses that are specifically designed to meet state licensing board continuing education requirements," says Col. Nick Desport, RA, LEED AP, F.SAME, USAF (Ret.), SAME Deputy Executive Director and Director of Programs. "For our uniformed service members who are deployed, and our industry members who are in the field, having access to high-quality online education opportunities that are tied directly to licensure and credentialing is an excellent way to ensure they remain current on important industry standards and codes."
Through RedVector's online courses and webinars, SAME members will be able to sharpen skills, enhance expertise, and keep up with industry trends, while earning professional development hours (PDH) to support ongoing professional certification requirements.
"We are honored to partner with SAME and are excited to provide world-class online training to its members," says Victoria Zambito, VP of Product Management and Marketing for RedVector. "We believe our efforts will assist those who will guide the future of the engineering profession and its contribution to the protection of our nation."
About SAME
Founded in 1920, the Society of American Military Engineers (SAME), the premier professional military engineering association in the United States, unites architecture, engineering, construction (A/E/C), facility management and environmental entities and individuals in the public and private sectors to prepare for—and overcome—natural and manmade disasters, and to improve security at home and abroad.
SAME's membership today comprises more than 30,000 leaders representing the uniformed military services as well as numerous government agencies, nonprofit associations, academic institutions and private-sector firms. For more information, visit http://www.same.org.
About RedVector
RedVector sets the standard for excellence in online continuing education and training for the architecture, engineering, construction (AEC), industrial and facility management industries and holds nearly 100 state and national accreditations. RedVector offers individual courses as well as large-scale corporate training solutions featuring customizable and easily accessible online universities with a full range of tracking and reporting features. With an online library exceeding 2,250 courses authored by more than 100 subject matter experts, RedVector serves professionals and organizations in all 50 states. The recipient of numerous community honors and industry awards, RedVector was founded in 1999 and is headquartered in Tampa, Florida. For more information, call 1-866-546-1212 or visit http://www.RedVector.com.