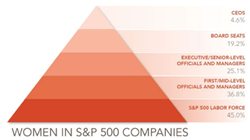 When women stop thinking they have to be like a man to succeed, they will begin to succeed.
Covington, Virginia (PRWEB) March 10, 2015
The fact that women occupy only 4.6% of the U.S. Fortune 500 CEO chairs can be directly attributed to their lack of understanding of the differences in gender communication. Annette Comer feels so strongly about this topic that she has decided to feature it as a major topic in her Bold and Balanced event debuting in Scottsdale, Arizona the weekend of April 17-19.
Having personally overcome communication hurdles during her own career, Ms. Comer adds to her research conducted over the past twenty years contributions by noted specialists such as Dr. Deborah Tannen, professor of linguistics at Washington DC's Georgetown University. Tannen and Comer agree that the women who acquire the requisite training to learn about and then leverage these communication barriers have a far greater chance to advance their careers toward the summit of any firm.
The results of Annette Comer's research confirm Tannen's findings that when women and men hear exactly the same statement, they often come away with quite different understandings of the speaker's intent. The result is that women usually unintentionally sabotage their own careers with their inability to translate "man-speak."
She has learned that women are usually most interested in establishing a connection with others in their conversations, whereas men typically seek to command attention, dictate information, and win arguments. Women avoid conflict that might denigrate the connection. Men see conflict as a competition and a way to build status. Ms. Comer emphasizes there is far more to it than that, but women who learn the proper techniques for gaining control of conversations can excel beyond their typical expectations.
Comer adds that the tendency of a woman to directly express her feelings often generates a negative reaction from a man, but the man usually does not articulate the response. The woman then assumes she has delivered something positive, only to find out later that she has actually harmed herself, especially when the male recipient has superior standing within the organization.
Under no circumstances does Ms. Comer suggest that women capitulate to the style and tactics that men employ. She is adamant that the female methodology of listening to and understanding the speaker is superior to the male tendency to try to "one-up" anyone who may appear to be competitor. However, Comer emphasizes that it is critical to women's advancement that depending on who they are speaking with, they understand how to flex their communication styles. And, in her experience, women need much improvement in this area.
About Annette Comer:
Annette Comer, President of Enterprise Excellence Inc., is one of the nation's leading authorities on high performance and the bestselling author of Rescue Me! She simultaneously managed four successful companies in varied industries and still found the time to build a strong marriage, travel extensively, and teach yoga. The Warrior Women Project is headquartered at 203 Green Violet Dr. Covington, VA 24426. Contact Annette at 804.293.0336 or online at: http://www.warriorwomenproject.com/