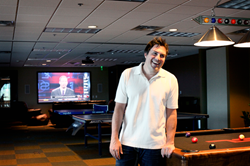 What is new is the quality of the data, the speed at which it is being delivered and the way in which it is being used
Scottsdale, AZ (PRWEB) March 15, 2015
The Internet of Things is changing the way people view and experience sports, according to a recent article in The Guardian. Looking at this year's Six Nations Championship, The Guardian shows how the data collected by the Internet of Things devices is changing the viewer experience. Jason Hope believes this shows one of the many ways in which the Internet of Things is changing all industries, including those that are not necessarily tech related.
According to the March 2 article from Stephen Pritchard, every game for this year's Six Nations Championship will create two million rows of data. The article, "The Internet of things is revolutionizing the world of sport," indicates that the data will then be sent to fans and broadcasters, as well as coaches, to improve the overall viewer experience and help improve player performance as well.
"This is not a new phenomenon," says Jason Hope, entrepreneur and futurist from Arizona. "What is new is the quality of the data, the speed at which it is being delivered and the way in which it is being used."
Data capture in the sporting world began in the 1950s, but early in the process it took months to get through all of the data collected in one game. Today, the data can be analyzed, delivered and used within mere moments.
Today, digital data is collected through digital cameras, wearable technology, GPS devices and sensors on the field. That data, then, can be used to make split-second decisions in the field, to direct cameras as they film the game and improve the stats delivered to the fans who are watching the game. Fans can now know not only how their team is performing, but also which players are performing at their best. The Internet of Things is also changing sports venues to give fans watching live a similar experience.
About Jason Hope
Jason Hope resides in Scottsdale, Arizona. He is a futurist, entrepreneur and philanthropist who uses his resources to help the local community. He also funds research into health and wellness. Learn more about his work at http://www.jasonhope.com.