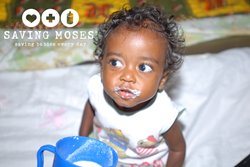 Greenwood Village, CO (PRWEB) March 06, 2015
Saving Moses, a global humanitarian organization dedicated to reducing infant mortality around the world is traveling to Angola, Africa March 7-14 to visit malnutrition clinics and meet with survivors of their malnutrition program.
This will be the organizations fifth time to return to the same region in Angola, demonstrating their commitment to the region's population by saving infants and toddlers ages five and under. The team will engage with the mothers and babies of the malnutrition program, uncover stories of survival, and identify opportunities for further growth. The group will utilize the hashtag #SavingAngolanBabies to raise awareness and raise new support.
Readers can follow the Angola trip and #SavingAngolanBabies at https://www.facebook.com/savingmoses.
Every month, the six different malnutrition clinics treat more than 200 children under the age of five throughout Angola. The Saving Moses team will be visiting the two largest clinics in Catumbela and Cubal.
Saving Moses has been supplying the clinics with two specifically designated formulas to treat malnourished babies. The formula provides vitamins, minerals, and carbohydrates essential for the healing process.
To find out more information about this program and the ongoing work of Saving Moses around the world, please visit: http://www.savingmoses.org or contact info(at)savingmoses(dot)org. To donate, become a hero, or become an ally for this important cause, visit: http://www.savingmoses.org/donate.
Saving Moses: Saving Moses has concentrated their efforts on providing for babies and toddlers ages five and under around the world, where the need is most urgent and the care least available. Saving Moses was founded in 2012 by Sarah Bowling after a mission trip to Ethiopia. They have established ongoing programs such as their revolutionary NightCare® Centers in Cambodia, offering shelter and protection for babies and toddlers whose mother's are entangled in the sex trade industry. They also fund six malnutrition clinics in Angola which provide therapeutic milk to little ones who are critically ill. They have expanded their programs into Afghanistan in 2015. For more information, please visit http://www.savingmoses.org, call 303.729.1200, or email Info(at)savingmoses(dot)org.