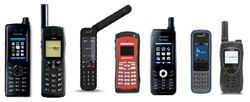 GlobaFone' mission is to ensure clients have communications that work no matter what
Portsmouth, NH (PRWEB) March 06, 2015
GlobaFone, a leading multi-carrier satellite service provider will be bringing its impressive portfolio of satellite communications solutions to the IWCE conference in Las Vegas March 18th and 19th. GlobaFone provides satellite phones, voice, data and tracking solutions from Iridium, Inmarsat and Globalstar. The IWCE is the wireless industry's largest annual conference.
"GlobaFone' mission is to ensure clients have communications that work no matter what", said GlobaFone CEO Lou Altman. "Our satellite solutions are a natural integration into the wider wireless space, especially for use in remote locations and during and after disasters."
IWCE brings nearly 350 exhibitors, and thousands of attendees together to discuss the most important issues in the industry in over 130 educational sessions. "We are pleased to be part of this industry event," said Altman.
ABOUT GLOBAFONE:
GlobaFone of Portsmouth, NH is an award-winning, leading service provider of satellite voice and data solutions to Federal, State and Local Governments, and select defense clients. GlobaFone solutions include five brands of satellite communications – Iridium, Inmarsat, Globalstar, Thuraya and KVH. GlobaFone also provides cellular service for rent or lease with coverage across the planet.