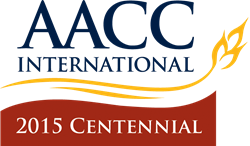 St. Paul, Minn. (PRWEB) March 06, 2015
AACC International unveiled the lineup of cutting edge Scientific Symposia sessions for the grain scientists' Centennial Meeting and also issued the official call for abstracts.
2015 marks the 100th anniversary of AACC International (AACCI), which is holding its Centennial Meeting in Minneapolis, Minnesota, U.S.A. on October 18-21, 2015. The meeting will feature forward-thinking presentations from international researchers who are looking to the next 100 years of cereal grain science. Attendees will network with scientists who are the Faces of the Future in grain science.
The Scientific Symposia topics include a variety of content – gluten in cereal-based foods, dietary fiber, nutrition for the future, food safety, cereal food processing, and ancient grains to name a few.
"Symposium and Science Café sessions will include some of the most urgent needs in cereal science," says Devin Rose, AACCI Centennial Meeting Program Chair and Assistant Professor at the University of Nebraska-Lincoln. "These issues include meeting the world's nutritional needs, as well as alternative protein sources, bioactivity of grain components, climate change, and developing new methods in cereal science."
The AACCI meeting call for abstract submission is an opportunity for other scientists to contribute to the scientific program. Submissions are due no later than April 15, 2015. The selection of presentations for the AACCI meeting is based on an anonymous peer-review process with the same requirements used for review of submissions to AACCI scientific publications (i.e. Cereal Chemistry). Added value and novelty of the information presented are two of the criteria submissions are judged upon.
Registration for the meeting will open in late April. Those interested in more information can check the AACCI Centennial Meeting website at aaccnet.org/meet for continuing updates and to submit abstracts.
You're invited to Network with the Faces of the Future October 18-21 in Minneapolis.
AACCI is a professional association for scientists who contribute to research, development, and processing of grains and grain-based products. The association has been an innovative leader in gathering and disseminating scientific and technical information to professionals in the cereal grain industry worldwide for 100 years.