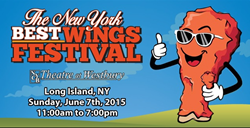 Wings are fun to eat and there is so much you can do with them in different flavors. They are addictive and crave-worthy!
Oceanside, NY (PRWEB) March 06, 2015
Matt Kourie and Rob Wittman are not only good friends but they also share the love for a spectacular chicken wing. This alliance has turned the two musicians into full blown bona fide "Wing Hunters". They have taken this vast wealth of knowledge for one of America's favorite finger foods and appetizers and created a major Festival that will feature everything chicken wing and a whole lot more.
With an expected crowd of 5,000, the inaugural New York Best Wings Festival will take place on Sunday, June 7, 2015 from 11:00am – 7:00pm at the NYCB Theater at Westbury in Westbury, NY. Advance tickets and custom packages to The New York Best Wings Festival can be purchased at NY Best Wings Festival.
VIEW the official promo video and learn more about the festival from the wing experts themselves.
The New York Best Wings Festivals, geared for the entire family to enjoy, will feature some of the premier restaurants in the New York Metropolitan Area whose wings have gained acclaim. Festival goers will taste wings from over 50 varieties, including classic buffalo wings, garlic parmesan wings and many other exciting unique flavors. For the foodies that want more than wings there will be gourmet food trucks, snacks and samples.
In addition to wing-eating and other food-oriented competitions, including the College Wing Olympics, there will be amusements, face-painting, craft brewery tastings, music, shopping, and more, which lead up to the main event, which is the championship bout, where the most notable "Wing Men of NY" will serve as seasoned judges. That includes Kourie and Wittman along with Matt Reynolds, who is director and star of The Great Chicken Wing Hunt; Ryan Hohman, known as the Ultimate Wingman, and Bring the Wing's Brian Dempsey.
The road to the New York Best Wings Festival has been an interesting journey for these two rockers. Kourie and Wittman began their quest a few years back to find the best wing joints on Long Island after band practice and shows. Then extended the search into Brooklyn, Queens and New York City.
They played hard and ate similarly. "Rob and I have been bandmates and musicians for a long time," Kourie said. "After rehearsals, it was our ritual to go for wings. We were wing lovers and wing nuts, like most people in America."
Wittman furthered, "Wings are fun to eat and there is so much you can do with them in different flavors. They are addictive and crave-worthy. We knew we wanted to find the greatest wings and that it was our journey to find the best wings in New York."
This led to the desire to share their knowledge with other wing fanatics. The two launched their wing review website, BestWingsLI.com, publishing critiques along with links to local wing eateries and more. They did all of the heavy lifting and, well, heavy eating.
That palpable passion for wings spilled over into the festival realm, since it was only a matter of time. The pair started small, with their popular seasonal bash, Wings and Beer Fest, which also featured craft breweries, and worked their way up to their forthcoming event the New York Best Wings Festival.
Kourie says his travels as a Wing Hunter have given him the tools to present the definitive ode to the chicken wing and the platform to allow others to join in the celebration. He explains, "First you need to have the passion to find the best wings on the planet. Next you have to realize this is not a solo journey. You need the support of the food community to steer you towards their favorite wing spots so a hunter can form his own judgment. Most importantly you have to have the adventurous spirit and palette to experience crazy flavors and cooking preparation. We are bringing the best wings we have tasted to the Festival so every guest can consider themselves their own honorary Wing Hunters when they leave."
Advance tickets and custom packages to The New York Best Wings Festival at the NYCB Theatre at Westbury, 960 Brush Hollow Road, Westbury, NY can be purchased at NYBestWingsFestival.com or http://www.facebook.com/BestWingsLI.