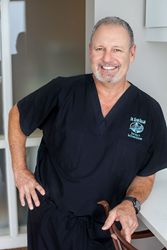 Charleston, SC (PRWEB) March 05, 2015
Dr. Kevin Hogan is now welcoming patients who need treatment for gum disease in Charleston, SC, to his practice in Mount Pleasant, where they can receive the LANAP® protocol. This laser gum surgery procedure has a high success rate and provides patients with a less-invasive alternative to conventional gum surgery. By removing periodontal disease with a laser, rather than surgical tools, Dr. Hogan can reduce the risk of bleeding, pain, and infection, allowing patients to enjoy faster healing after the procedure.
During the LANAP® procedure, Dr. Hogan does not make any incisions or place any sutures. After evaluating the patient's gum pocket depth, Dr. Hogan begins the procedure by using the FDA-cleared PerioLase® MVP-7™ laser to remove gum disease. Dr. Hogan then removes tartar deposited below the gumline with an ultrasonic scaling tool. Next, Dr. Hogan uses the PerioLase® MVP-7™ again to stimulate blood clot formation and encourage regeneration in the alveolar bone, which is the bone that supports the teeth. After the procedure is complete, most patients notice few adverse side effects and typically return to their usual routines the following day.
Dr. Hogan may recommend laser gum surgery to people suffering from gum disease in Charleston, SC, for a few reasons. The procedure poses a relatively low risk of infections, due to its minimally invasive nature as well as the sterilizing effects of the laser. The PerioLase® MVP-7™ actively helps lower the risk of tooth loss by stimulating growth of the alveolar bone, which can help otherwise hopeless teeth. Laser gum surgery also minimizes the loss of healthy tissue. Dr. Hogan can leave healthy tissue intact to protect and support the teeth, which is advantageous for people who have suffered severe gum recession in association with gum disease. The LANAP® protocol may also be the most feasible option for people with dental anxiety, as it is less invasive and typically less painful than conventional surgery.
Dr. Hogan advises patients to seek appropriate treatment as soon as possible if they notice indications of periodontal disease. Patients should be alert to inflammation, recession, bleeding, changes in gum pocket depth and other shifts in periodontal health. Patients who notice these signs of gum disease in Charleston, SC, are encouraged to protect their oral health by calling Dr. Hogan's office to set up a consultation.
About the Doctor
Dr. Kevin Hogan is general dentist providing individualized care for patients in Mount Pleasant, SC. Dr. Hogan is a graduate of the Indiana University School of Dentistry and has completed hundreds of hours of continuing education courses to stay up to date with the latest dental technologies. In addition, he has also completed coursework with the Dental Organization for Conscious Sedation and has lectured at both the University of North Carolina and Emory University. Dr. Hogan is a member of the American Dental Association, International College of Cranio-Mandibular Orthopedics, Academy of Laser Dentistry, International Association of Physiologic Aesthetics, Institute for Advanced Laser Dentistry, among many other. He and his team are dedicated to providing exceptional oral care to patients through personalized treatment plans. To learn more about the services offered by Dr. Hogan, please visit his website at http://www.smilesbyhogan.com or call (843) 639-5044.